Lucas Ramamonjisoa 'Stick-A-Bush' / Bernold Wiesmayr's Lunch-Paket finally on T.O.P / Juan Pulido & Philip Denifleé Big Band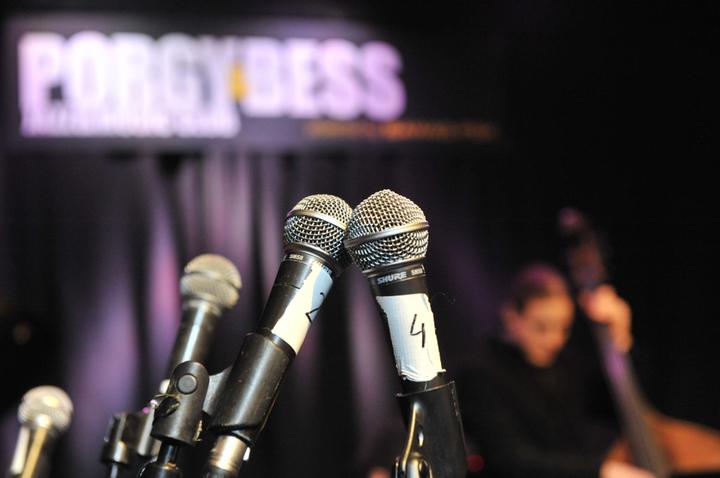 Lucas Ramamonjisoa 'Stick-A-Bush'
Lucas Ramamonjisoa: keyboards
Nikolaus Holler: saxophone
Valentin Günther: trombone
Simon Cremer: guitar
David Ambrosch: bass
Matti Felber: drums
Bernold Wiesmayr's Lunch-Paket finally on T.O.P
Michael Schwarzböck, Marion Traun, Veronika Sterrer: vocals
Anton Prettler, Stefan Eitzenberger, David Gruber: saxophone
Stephan Hack, Alex Valdés: trumpets
Martin Demmer: guitar
Johannes Schweiger: keyboards
Paul Hartinger: bass
Philip Denifleé: percussions
Bernold Wiesmayr: drums
Juan Pulido & Philip Denifleé Big Band
Juan Pulido: piano
Philip Deniflee: drums
Lukas Florian: bass
Vanja Rosenthal: guitar
Ruben Ramirez: percussion
Alex Valdes, Stefan Hack, Lukas Hartl, Eduardo Romann: trumpets
Matyas Papp, Daniele Giaramita, Simon Förstl: trombone
Christina Baumfried: bass trombone
Andreas Lachberger, Laura Valbuena: alto saxophone
Nikolaus Holler, Anton Brettler: tenor saxophone
David Gruber: bariton saxophone
Wir stellen ab ca. 13.30h auf "Now Live" und dann öffnet sich automatisch ein Fenster, wo Sie via Vimeo kostenlos und ohne irgendeine Registrierung das Konzert miterleben können. Wir ersuchen Sie aber, dieses Projekt über "Pay as you wish" zu unterstützen. Vielen Dank & Willkommen im virtuellen Club!
We switch over to "Now Live" from about 1.30 pm and then a window opens automatically, where you can watch the concert free of charge and without any registration via Vimeo. If you want, you can support this project with "Pay as you wish". Thank you & welcome to the (virtual) club!
Sorry this part has no English translation
Drei großartige, international besetzte Konzerte mit jungem Musiker*innen. Listen to the future! Auch im Stream!!"