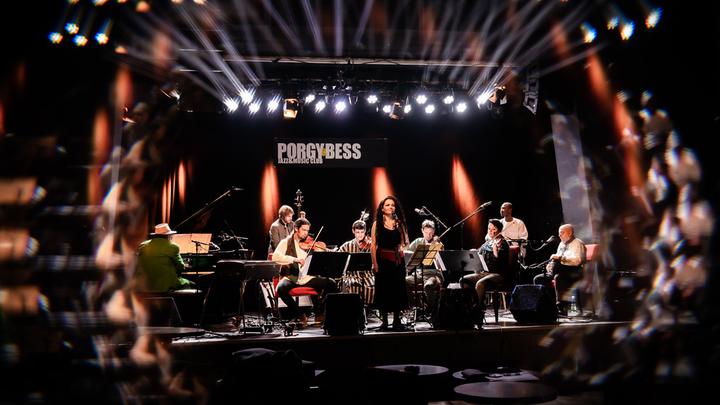 Basma Jabr: vocals
Ingrid Oberkanins, Habib Samandi, Ibou Ba: percussion
Gregor Aufmesser: bass
Florian Sighartner, Tomas Novak, Maria Salamon, Simon Frick: violin
Harald Huber: keyboards, compositions, arranger
We start the live-stream (real time, stream is not on demand!) about 1/2 h before the show starts. By clicking on "Now Live" a window opens, where you can watch the concert free of charge and without any registration. If you want, you can support this project with "Pay as you wish". Thank you & welcome to the (virtual) club!
Sun Ra visits Vienna on his intergalactic journey. In the outer space, the Viennese waltz and rhythms from Dakar, Tunis and Damascus have created a new living being. The dancing dragon spews fiery compositions by Harald * Huber, Farid Al Atrash, Jean-Luc Ponty, Ramez Jabr, Sun Ra, Janelle Monáe and other.