Richie Winkler Projekt feat. Frauenlob/Stolz/Derschmidt (A)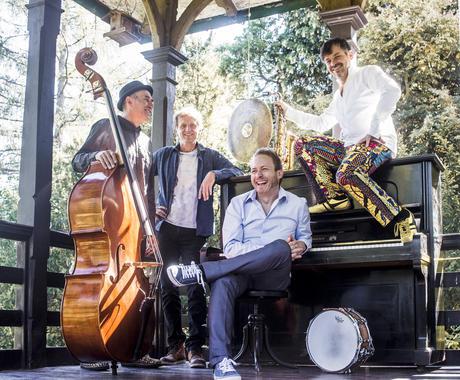 Richie Winkler: saxophones, bass clarinet
Burkhard Frauenlob: piano, keyboards
Wolfram Derschmidt: bass
Christian Stolz: drums
We start the live-stream (real time, stream is not on demand!) about 1/2 h before the show starts. By clicking on "Now Live" a window opens, where you can watch the concert free of charge and without any registration. If you want, you can support this project with "Pay as you wish". Thank you & welcome to the (virtual) club!
This is the latest creation of Richie Winkler, which emerged from the jazz-duo project "FJORD" by Winkler & Frauenlob. Within that project the two musicians have found a common language to bring their individual musical inspirations and expressions to the stage.
With the "Richie Winkler project feat. Frauenlob / Stolz / Derschmidt" there is now an expanded continuation of that musical spirit with many new compositions and arrangements effectively implementing the added possibilities playing in a quartet.
The working title for the album being worked on is "Stitch Down"!
The meaning of Stich Down in its most handicraft-understanding being connecting the shoe and sole together, is in this work being extended, and in some form – let us say - slightly abused, to depict the beat of one of the new compositions, which could lead the one or other listener in the audience to get motivated to elevate from chair-dancing to expressive, massively freed movements.
This project expands on the language of jazz, spanning an attractive, captivating arc through its history in order to ultimately present its own, novel dialect.
And our goal has not been to reinvent the wheel, but using, applying and transforming the known - swing, groove and positive energy – putting new layers on top of each other and then performing the found in our common language.
We are referencing our work to the great masters such as Egberto Gismonti, Thelonius Monk, Chick Corea, John Coltrane, Steve Lacy, Cannonball Adderley to Kenny Garrett, Steve Coleman, and Greg Osby.
The expression in our language is lyrical, figurative, flamboyant, and yet very sensitively permeated by very emotional improvisations from multiple perspectives.
Situational and performative at the same time, always based on deconstruction, transformation, and recreation.
Nevertheless, a strict design language with attention to detail persists in the compositions by Richie Winkler and Burkhard Frauenlob.
http://www.richiewinkler.com/Projekte/Richie-Winkler-Project