postponed !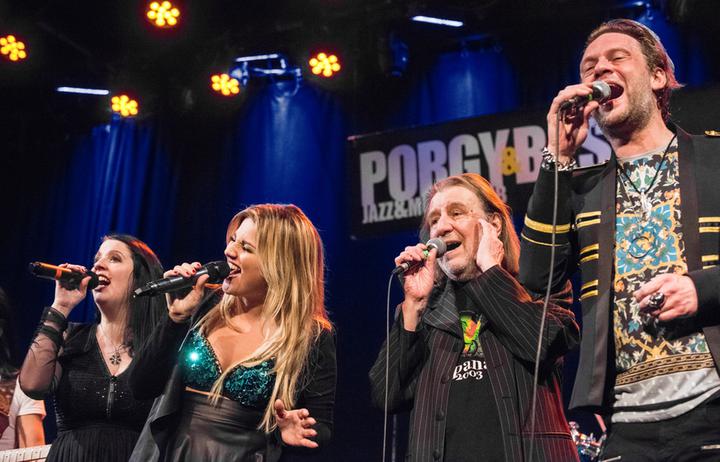 Wickerl Adam: master of ceremonies
Andy Baum, Tini Kainrath, Bella Wagner, Anita Kolbert, Peter Dürr, Titus Vadon: vocals
Harry Stojka, Zebo Adam, Gerald Gradwohl, Markus Bratusa, Helmut Bibl, Stefan Bernheimer: guitars, vocals
Max Tschida, Polio Brezina: piano, keyboards
Rü Kostron, Lukas Filz, Fredl Petz, Andy Abraham, Al Slavik: bass, vocals
Sigi Mayer, Nico Bernhardt: drums
Neuer Termin: https://porgy.at/events/10808/
Sorry this part has no English translation
Am 11. Dezember 2021 geht eine österreichische (Wiener)Musikinstitution in den Ruhestand. Wickerl Adam, der die Hallucination Company mit Michi Jürs gründete, muss aus krankheitsbedingten Gründen w.o. geben. Die H.C. wurde 1976 als Rocktheater gegründet und in späteren Jahren Spielwiese für österreichische hochtalentierte Musiker. Von Falco, Hansi Lang, Mo, Andy Baum, Tini Kainrath bis Bella Wagner, Anzo Morawitz, Peter Dürr usw. liest sich die Liste wie das "Who is Who" der österreichischen Popszene. Vor allem die grandiosen Musiker standen immer im Mittelpunkt des Geschehens. Es wäre ein Affront nur einen zu erwähnen, denn es waren die talentiertesten. Am 19. Dezember werden wir eine Reise durch vier Jahrzehnte machen. Von Thomas Rabitsch bis Zebo Adam werden alle, die noch Leben und Zeit haben, in den verschiedensten Konstellationen noch einmal die Sau rauslassen. Wickerl Adam wird einige Interna erzählen und noch einmal wird das Motto sein: The Heat is on – the Beat goes on!!!
https://www.facebook.com/wickerl.adam.5103