Matthias Schubert & Simon Nabatov Duo (D)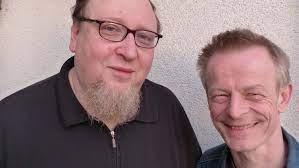 Matthias Schubert: tenor saxophone

Simon Nabatov: piano
We start the live-stream (real time, stream is not on demand!) about 1/2 h before the show starts. By clicking on "Now Live" a window opens, where you can watch the concert free of charge and without any registration. If you want, you can support this project with "Pay as you wish". Thank you & welcome to the real & virtual club!
The two met in New York in 1987, thanks to their mutual friend, the German drummer Ernst Bier. They jammed a lot and exchanged musical ideas, a common musical language and mutual understanding resulted, still valid today. Since Nabatov moved to Cologne in 1989, both have brought to life various bands and projects. Matthias Schubert Quartet (with Lindsay Horner on bass and Tom Rainey on drums) has toured Europe extensively and released 3 CDs - "For thieves and lovers" 1992, "Blue and Gray Suite" 1995 and "Momentum" 2000. Matthias Schubert can be heard on Nabatov's quintet CD "Roundtrip" or the septet CD "Time Labyrinth", as well as in the collective trio CD with the Dutch cellist Ernst Reijseger "Square Down". Around 2000 they formed the Schubert - Nabatov Duo. Many concert appearances and the CD "Descriptions", released in 2013, followed.
"Fragment" is a documentation of a happy occasion - the reunion of the duo after 7 years of hiatus.
http://www.nabatov.com/
https://jazzpages.de/MatthiasSchubert/