Masahiko Satoh / Otomo Yoshihide / Roger Turner 'The Sea Trio' (J/GB)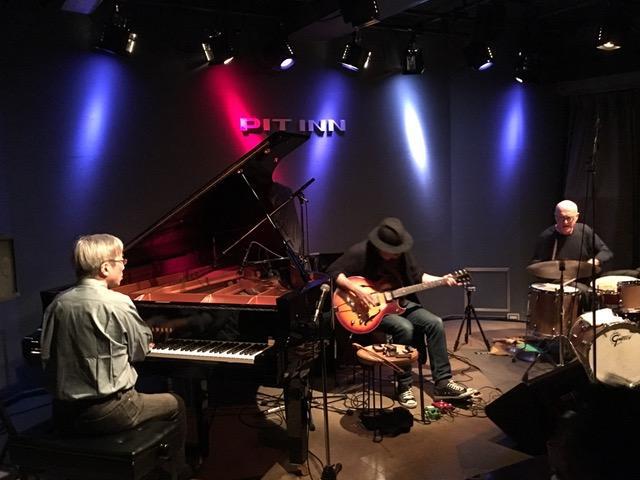 Masahiko Satoh: piano
Otomo Yoshihide: guitar
Roger Turner: drums
I had played before with Otomo. We worked together in Macau for a week with Carlos Zingaro in a dance performance around 1995, and also recorded a cd with a septet of improvisers that included Lauren Newton and Zeena Parkins. Occasionally we play duo concerts, and have two cd releases in duo…….
I had long heard of the legendary Masahiko Satoh, and the quality of his work with the top new york jazz musicians in the 1970's and 80's – see him on youtube with Steve Gadd and Eddy Gomez (https://www.youtube.com/watch?v=MiZW9SJfVwc) – and was amazed at some of his seminal recordings like the 1971 "Amalgamation" that featured outrageous electronica and horn sections with traditional Japanese music themes, plus the drumming of Louis Hayes throughout. Very open music, defying all conventions ( including those of western improvisation !!).
Satoh-san also wrote avant-garde masterpieces like "Metempsychosis" for the legendary Stomu Yamashita. (Check out Julian Cope's fantastic book "Japrocksampler" that covers the inspirational musics that were being played in Japan from the 60's onwards, to trace the incredible output of Satoh-san,…,..,,.,,. amongst others ).,.,.,.
So,……., Otomo-san we all know. He has become perhaps the best-known Japanese musician playing in the west, when he first blazed a trail using turntables to fire unique sounds into all kinds of musical situations. Nowadays – in fact for quite a long time – he has been playing electric guitar with his own bands, and others like this trio.
The Sea Trio met at the legendary Egg Farm just outside Tokyo, and played at the hall there, a purpose-built, wood-walled intimate concert hall with a great acoustic, that had been much appreciated by Derek Bailey and Steve Lacy amongst others. I have been fortunate to have played there each year for the last few years---in duos for example with the pianist Yuji Takahashi, and the dancer Min Tanaka, as well as with Masahiko. Saito-san, who runs the farm and the music, put the trio together. The first concert was recorded and released on Doubt Records, Tokyo. We wanted to play again , and got bookings at another legendary spot in Tokyo, Pit-Inn in Shinjuku. The place was full, and the concert recorded for the Sea album on Relative Pitch Records, the New York label. This december the trio returns to the hall egg farm again. (Roger Turner)