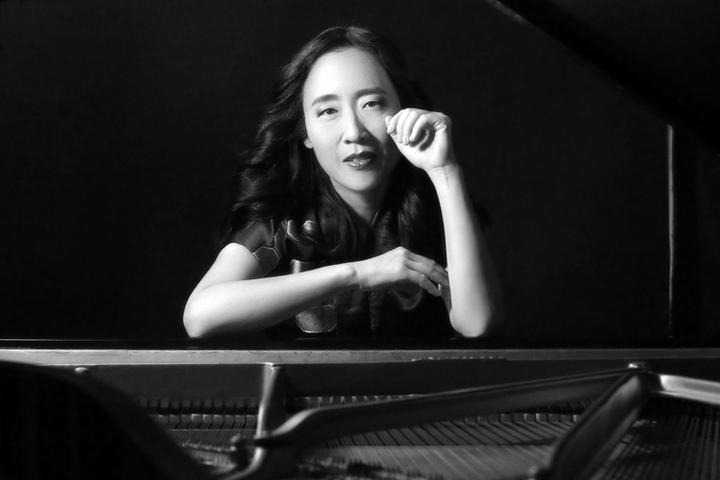 Helen Sung: piano, vocals
David Wong: bass
Rudy Royston: drums
"Never short of dazzling" pianist/composer Helen Sung presents PUSH, a celebration of the artistry of women composers including Mary Lou Williams, Geri Allen, Marian McPartland, and Carla Bley. Together with two of today's most highly sought after rhythm section players, bassist Reuben Rogers and drummer Terreon Gully, her trio highlights landmark works in the jazz repertory, performing with a creative, distinctly modern flair.
Helen Sung is an acclaimed jazz pianist and composer. Named a Steinway Artist in 2020, she eschewed her classical piano upbringing after a chance encounter with jazz as an undergraduate. Helen went on to become part of the inaugural class of the Thelonious Monk Institute (now the Herbie Hancock Institute) at the New England Conservatory of Music.
Her recent releases Sung With Words, a collaborative project with internationally acclaimed poet Dana Gioia funded by a Chamber Music America New Jazz Works Grant, and Anthem For A New Day (Concord Jazz), topped the jazz charts. Helen and her band have performed at major American festivals and venues including Newport, Monterey, Disney Hall, SFJAZZ, and Carnegie Hall. Internationally, her "NuGenerations" Project toured southern Africa as a U.S. State Department Jazz Ambassador, and recent engagements include debuts at the London Jazz Festival, Jazz at Lincoln Center Shanghai, Blue Note Beijing, and the Sydney International Women's Jazz Festival.
She has worked with such luminaries as the late Clark Terry, Wayne Shorter, Ron Carter, Wynton Marsalis (who named her as one of his "Who's Got Next: Jazz Musicians to Watch!"), MacArthur Fellow Regina Carter, and Grammy-winning artists including Terri Lyne Carrington and Cecile McLorin Salvant. She currently performs with such fine ensembles as the Mingus Big Band and McLorin Salvant's Ogresse. Helen has served on the jazz faculties at Berklee College of Music, the Juilliard School, and Columbia University, where she also was the inaugural jazz artist-in-residence at Columbia's prestigious Mortimer B. Zuckerman Mind Brain Behavior Institute in 2019.
Current projects include PUSH (a Trio project featuring two of today's most highly sought after rhythm section players: bassist Reuben Rogers and drummer Terreon Gully); Sung With Words (a jazz and poetry collaboration); and upcoming releases Everybody's Waltz (a duo project with trumpeter Marquis Hill) and Quartet+ (pairing Helen's Quartet with the Harlem String Quartet).