postponed !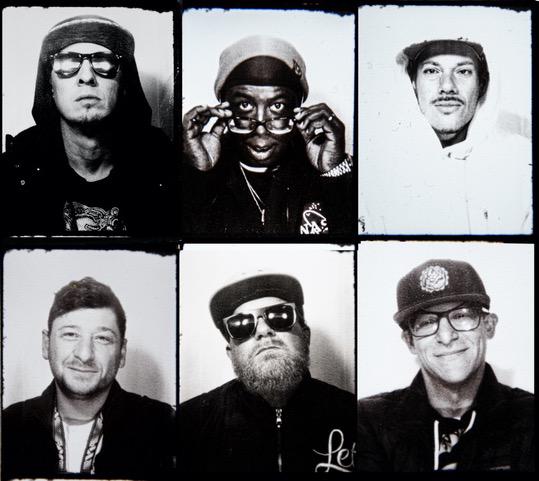 Adam Deitch: drums, percussion, arrangement
Adam 'Shmeeans' Smirnoff: guitar
Erick 'Jesus' Coomes: bass
Ryan Zoidis: alto, baritone, tenor saxophone, Korg X-911
Eric 'Benny' Bloom: trumpet, horns
Nigel Hall: vocals, hammond B-3, rhodes, clavinet, keyboards
Aufgrund der unsicheren Situation wird die gesamte Tour auf den 9. Oktober 2022 verschoben. Neuer Termin: https://porgy.at/events/10908/. Karten bleiben gültig bzw. können gegen Gutscheine getauscht werden. Wir bitten um Verständnis... P&B-Team
No matter how far we comb the outer reaches of the galaxy in search of the funk, it eventually finds us—or it does not.
You see, funk lives, grows, breathes, and blossoms. Like any living thing, it needs to be fed in order to flourish. LETTUCE both feed the rich history of funk and also combine it with strains of hip-hop, rock, psychedelia, jazz, soul, and go-go. The GRAMMY® Award-nominated six-piece—Adam Deitch [drums, percussion, arrangement], Adam "Shmeeans" Smirnoff [guitar], Erick "Jesus" Coomes [bass], Ryan Zoidis [alto, baritone, tenor sax, Korg X-911], Eric "Benny" Bloom [trumpet, horns], and Nigel Hall [vocals, Hammond B-3, Rhodes, clavinet, keyboards]—once again break rules, push boundaries, and uplift on their sixth full-length studio offering, Resonate [Round Hill Records].
"Funk is a living and breathing thing with a ton of sub-genres," affirms Deitch. "Our goal is to add our own stamp to that by moving things around and bringing in jazz chords, psychedelic passages, big horns, and elements from the instrumental side of hip-hop. Funk is known as a very tightknit artform. We extend the template with improvisation on the spot. It forces us to react, pay attention, and listen to each other. By combining everything, we try to add something to the culture we love so much."
Reverence for this culture rings out loud and clear throughout a catalog of fan favorite releases. Their discography comprises Outta Here [2002], Rage! [2008], Fly [2012], Crush [2015], the EP Mt. Crushmore [2016], the live album Witches Stew [2017], and Elevate [2019]. The latter lifted LETTUCE to new heights. Notably, it garnered a 2020 GRAMMY® Award nomination in the category of "Best Contemporary Instrumental Album" and bowed at #1 on both the Billboard Contemporary Jazz Albums Chart and iTunes Top R&B Albums Chart. Elevate also soared to the Top 15 on the Billboard Jazz Albums, R&B Album Sales, and Heatseekers Charts. Not to mention, it put up 3 million streams within six months, and simultaneously received acclaim from BrooklynVegan, Billboard, Rolling Stone, NPR, and more.
Throughout 2019, LETTUCE siphoned all of this energy back into the studio. Written and recorded during the same Colorado Sound sessions that spawned Elevate, the band brought Resonate to life alongside iconic producer and engineer Russ Elevado [D'Angelo, The Roots, Erykah Badu].
"Russ had worked with all of our heroes," smiles Deitch. "When we found out he was a fan, we were completely blown away and super inspired, so I ended up writing more than I've ever written for a record. He made us play our best. We came in extra prepared and tried to have a plethora of tempos and feels. There are rap vibes, trippy moments, and old school soul. Everything flows."
"We hadn't been in the studio for at least four years," adds Zoidis. "Of course, we'd played together a ton on tour. Deitch is constantly writing and thinking of our next musical move though. By the time we got in, we had so much material and were focused. It was an empowering moment for the band. We were in a place where the chemistry couldn't have been better. We got to capture it on tape with Russ at the controls."
"It's exploratory," "Shmeeans" elaborates. "Some aspects represent our past, and other aspects represent our present and future. It's the most we've ever recorded at once, so we really present a full picture."
LETTUCE introduces this picture with the first single "Checker Wrecker." Drawing on a longstanding collective passion for Washington, D.C. go-go music, they welcome scene legends Big Tony Fisher of Trouble Funk and Tyrone "Jungle Boogie" Williams of Rare Essence into their ecosystem. Funk guitars and simmering horns dip in and out of a percussive pocket before the track struts into swaggering chants, "Put some stank on it," backed by warbling synths and spacey organ. Plus, Shmeeans drops "one of them funky solos."
"Go-go is the missing link between hip-hop and funk," says Deitch. "Tony has played with us in D.C., so we asked him to join us in the studio. 'Jungle Boogie' was down, too. The song is a happy moment of connecting the dots."
Upheld by deft riffing, hummable horns, and "Tower of Power energy," Resonate ignites with the boisterous "Blaze," which the band kicked around live for years. "If you're a classic LETTUCE fan, you'll know it," smiles "Shmeeans."
Meanwhile, "Moksha" would be born from a moment of fate. Exploring the edges of psychedelia, legendary sitarist Indrajit Banerjee blesses the tune with sitar conjurations floating in and out of ethereal guitar transmissions.
"I bought a sitar at a pawn shop in Austin," recalls "Shmeeans." "However, I needed to learn how to tune it. I ended up finding Indrajit online. He invited me over to his house and helped me with tuning. It took a minute, but I realized he was this master player. We've had him jam on stage, and he's on the record now. It's a really cool, serendipitous story."
Nearing the nine-minute mark, the closer and title track "Resonate" sees the band once again tread new territory. "It's definitely a mood piece," adds Deitch. "There's a meditational vibe. It's where we're at now. You can relax to it—or smoke a joint to it. The title is up for interpretation. If you let good vibes resonate with the people around you, they'll hit hearts, minds, and souls."
"Jesus" concurs, "It's important to us for the attendee of our concerts to experience a really great feeling and after that to Resonate it out to the rest of the world wherever they go and to whomever they meet."
In the end, LETTUCE are more alive than ever on Resonate.
"I want you to know you're listening to a bunch of best friends who have been playing together for more than 25 years," Deitch leaves off. "We were major parts of each other's lives before the band. It's a true democracy. We all agree on the vision. We like to hit people in the heart and in the gut as opposed to the head. Maybe, you want to put Resonate on and dance or just grab the aux cord where you are, plug it in, and play it loud."
Jesus adds, "I hope fans take away a sensation of genuine emotion and personal transformation."
"Hopefully, Resonate stamps a moment in time for you," concludes Zoidis. "It touches on all of the important funk sub-genres that made us who we are. Funk definitely found us. No matter how hard we try to put it down, it takes over and makes sure we're doing what we're here to do!"