canceled !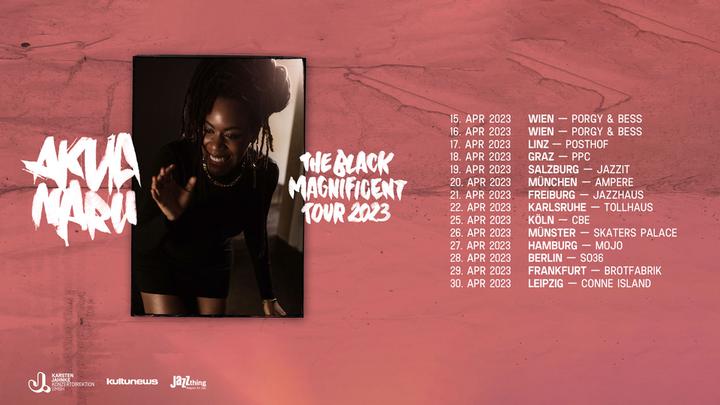 Liebe Akua Naru-Fans,
wir haben uns sehr auf die anstehenden Tour-Termine 2023 gefreut, müssen diese aber leider aus wichtigem Anlass absagen.
Grund dafür ist eine schöne Neuigkeit: Akua Naru wird zum zweiten Mal Mutter und erwartet den Nachwuchs kurz vor den angesagten Terminen. Daher ist es ihr natürlich nicht möglich, auf eine mehrwöchige Tournee zu gehen.
In den kommenden Wochen werden wir uns Gedanken über mögliche Tour-Termine in der Zukunft machen und diese zu gegebener Zeit kommunizieren.
Wir bitten vielmals um Verständnis. (Akua Naru)
Gekaufte Tickets werden selbstverständlich rückerstattet
Akua Naru is a Hip Hop artist, organizer, producer, activist, and scholar, whose work centers social justice advocacy and community building.
Her music, deeply nuanced, poetic and wise, theorizes the myriad experiences of Black women through rhyme along a sonic spectrum from Jazz to Soul. She is co-founder of the production/management company, The Urban Era, and, to date, has released four albums: "...the journey aflame (2011)", "Live & Aflame Sessions (2012)", "The Miner's Canary (2015)", and "The Blackest Joy (2018)"--alongside a wide range of additional artistic content.
​She has recorded with Tony Allen, Eric Benét, Angelique Kidjo, Tuneyards, Questlove, Georgia Anne Muldrow, Christian Scott, Rah Digga, Mulatu Astatke, Bernard Purdie, Cody ChesnuTT, and more.
Akua has performed hundreds of shows in more than fifty countries across five continents with her 6-piece band. She has been an invited lecturer at Harvard, Oxford, Cornell, Princeton, Brown, Fordham, University of Cologne (Germany), Ahfad University for Women (Sudan), and Pivot Point College (China), among countless others.
With her social justice work, Akua has collaborated with an array of individuals and organizations globally in order to instigate change.
​Akua Naru was a Nasir Jones Fellow at the Hutchins Center for African & African American Research at Harvard University (2018-19) and is an archivist/Race & Media Fellow at the Center for the Study of Race & Ethnicity in America at Brown University. She is the founder of theKEEPERS collective and inventor of theKEEPERS groundbreaking archive for women in hip hop.