Duo Michael Fischer/Yoram Rosilio 'MIYO' (A/F)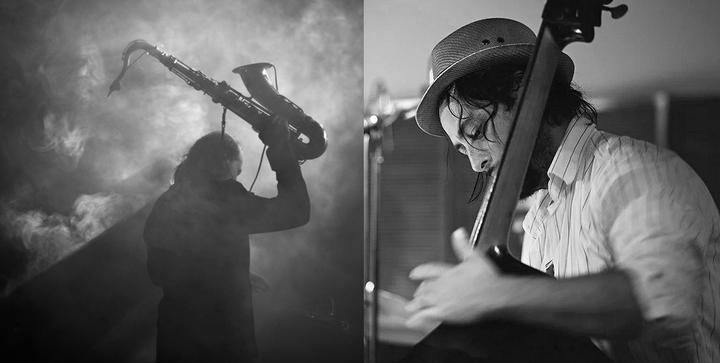 Michael Fischer: tenor saxophone, electronics
Yoram Rosilio: bass
Michael Fischer – musician-composer-instant composition conductor – works on the immanence of language within sounds, their sculptural and dramatic evidence, on the tenor saxophone, the violin, on cd-player setting and conducted instant compositions, in improvised and experimental music / noise / soundscapes. Since 1999 connecting the electro-acoustic phenomenon feedback - developed the feedback_saxophone. Collaborations in literature - focus experimental poetry -, dance, performance, installation, video.
Beneath his longstanding collaborations such as duo BAGG*FISH with ARG/NL drummer Marcos Baggiani, Michael Fischer launched the Vienna Improvisers Orchestra (2004), since then elaborating an individual hand-sign practice / instant composition conducting, similar Butch Morris' 'conductions'. - As instant composition conductor he works for international improvising orchestras, temporarily large ensembles and choirs. (Pressetext)
Yoram Rosilio is a bassist, percussionist, composer, leader, producer and organiser. ​He stands as a leader and composer in the International Big Band "Anti RubBer brAiN FActOrY" (arbf) and in the band Tikkun. Since 2017, he is one of the Co-founders and Artistic Director of the Network S.H.A.R.E : European network for creative music and improvised arts. Responsible of a declined festival, the SPIME, taking place in Paris every year. Since 2016, he is the Co-founder and co-artistic director of the phonographic label LFDS Records, creative Music, based in Paris and of the Artistic Collective Le Fondeur de Son. Since 2015, he has been a resident at Anis Gras - Le lieu de l'Autre - Arcueil - Place of artistic creation within which he bases a large part of his activities.​From 2015 to 2019, he co-directed several shows on Radio Libertaire (89.4FM - Paris) to broadcast and publicize a maximum of underground, traditional, improvised music, Free Jazz ... Blues en Liberté and Tumultum Hominum.
Finally, Yoram Rosilio take part of "the Bridge", musical creation project between Chicago and Paris, bringing together nearly 140 musicians among the most representative of the both Free Jazz scenes. (Pressetext)
https://m.fischer.wuk.at/
https://www.facebook.com/yoramrosilio/