The History of European Jazz – The Music, Musicians and Audience in Context (Edited by Francesco Martinelli)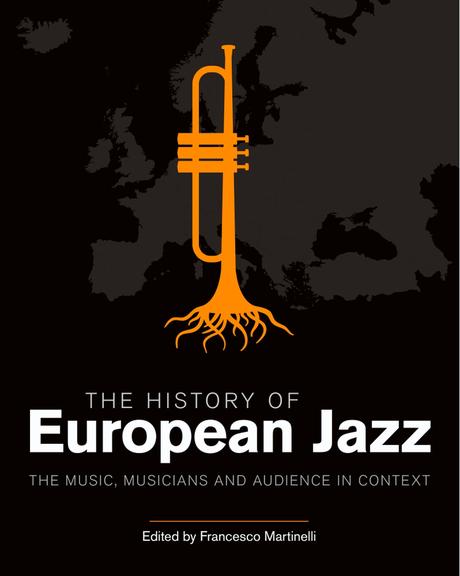 Francesco Martinelli: Jazz Promoter, Journalist, Lecturer and Author, an Anthony-Braxton-Scholar from Pisa, in Italy, nominated for the 2019 Association for Recorded Sound Collections Awards for Excellence in Historical Recorded Sound Research.
Andreas Felber: Jazz Promoter, Journalist, Editor with ÖRF and University Proofreader. Associated with Institute of Popular Music of the Vienna University of Music.

Vid Jeraj: Music Writer with HDS/Croatian Composers Society, Musician, Writer and Slam Poetry Performer. Published novelist, Lecturer on Džezologija - a synthesis of jazz and literature (dOCUMENTA, LJF). Radio Editor and Journalist.
Sorry this part has no English translation
The History of European Jazz with its 742 pages, and 45 contributors from across the continent is a monumental work of international scholarship, which has been part-funded by the EU. The importance of this book [is that it is] published in just one language – English. At last, we have a single publication that brings together a vast collection of knowledge and ideas and traditions, many of which have never traveled beyond certain national boundaries. Each chapter not only narrates the development of jazz in each country but includes a separate bibliography and listening guide.
Supported by the Europe Jazz Network with funding from the Creative Europe programme of the European Union, this volume will serve as an inspiration for new generations of listeners and musicians.
To call The History of European Jazz fascinating is something of an understatement. Every chapter is full of extraordinary information. (Peter Jones, Jazz in Europe)
One of the most ambitious projects in jazz scholarship... the first extensive look at the history of indigenous European jazz as written by the experts of each country or region...covered in detail previously unavailable to English readers... Named as one of the best jazz books for 2018. (The New York City Jazz Record)
As one slightly sceptical observer put it to me, "The project really is limitless in its scale." Indeed so. Jazz in Europe over the past century is a vast, disparate and more or less inexhaustible subject. So it is definitely to the credit of those involved that they have not only managed to pack so much in between the book's black covers, that they have given it such a sense of order and structure, and that the standard of the English and of the proofing are so good. It is also very well illustrated and the picture captions are detailed and highly informative. ...the cultural, historical and economic contexts in the different countries are never the same. And the approach of allowing a specialist from the country concerned to tell each story gives that authentic sense of where the music comes from. ...books on this ambitious scale are increasingly a rarity. The fact that this one has received the backing to actually come into being, and that it has been done this well, is nothing short of a miracle. (London Jazz News)
It's taken some time, about a century in fact, but finally, thanks chiefly to editor and jazz historian Francesco Martinelli of Siena Jazz, the first comprehensive, pan-European history of jazz sees the light of day. And what stories they are too -complex, colorful and sometimes tinged with tragedy. Though jazz celebrated its centenary in 1917, what this book demonstrates time and again is the longer historical view, whereby the back and forth migrations of people between continents and across national borders over many centuries, and the cultural exchanges and assimilations along the way, have all fed, and continue to feed, into the complex mosaic that is jazz.
There have been excellent jazz histories of individual countries to be sure, and sweeping—and generally less satisfying—historical overviews of European jazz are not uncommon, but for its scope, detail and academic rigour The History of European Jazz: The Music, Musicians and Audiences in Context is simply unprecedented in its ambition. What also sets it apart from most general European jazz histories is the fact that the jazz histories of the forty-odd countries examined herein have been written by experts native to their respective countries, ensuring an authenticity and insight that would be missing from any single author's necessarily narrow overview. The chapter authors are, without exception, distinguished jazz journalists, authors, promoters, academics and curators. (All About Jazz)
Great for classrooms, libraries, and scholars, this work opens the door for anyone interested in jazz in Europe from its inception to the present and is a strong starting point for further research for scholars seeking to contribute to the field. (Library Journal)
The History of European Jazz, edited by Francesco Martinelli, gets my vote as the most significant work of jazz scholarship of 2018. (Ted Gioia)
Addendum:
In the course of almost a century, European jazz musicians not only produced a corpus of work worthy of much wider appreciation, but also adopted strategies to adapt to the varied reception that the music evoked, which ranged from joyful acceptance to outright prohibition, the latter often involving survival and protest in equal measure. As the first organic overview of the history of jazz in Europe, and covering the subject from its inception to the present day, this volume provides a unique, authoritative addition to the musicological literature.
Entries are written in a narrative style and are presented on a country-by-country basis. Each article is authored by a jazz history specialist from the specific country who contextualizes the music in the cultural landscape of that country, discussing the most influential figures of its development, and referencing the sometimes considerable literature available in the national language. This unprecedented pool of authors makes much of this information available in English for the first time. Further chapters cover related subjects: the history of African-American entertainers before jazz, the cross-national traditions of Gypsy and Jewish music, festivals, films, and avant-garde music. The book also draws on the newly available resources created by the extensive work being done nationally by various jazz archives. Chapters contain in-depth bibliographies, rare photographs and illustrations, and suggested listening lists.