Jazz in Riemergasse
A Short History of Swing Music in Riemergasse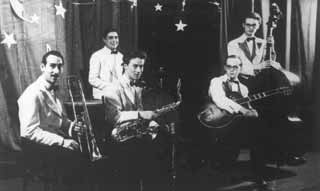 Actually the story of jazz in Riemergasse starts in Paris 1942, in a nightclub called "Club Ventadour", a combination of cabaret, dance hall and clip joint. Of course this venue featured a regular stage band, too – in fact, a very good at that: Roby Davis played clarinet and tenor saxophone, Roger Godet violin, brothers Roger und Marcel Etlens accordion, guitar and bass, and Arthur Motta on drums. Both Motta and Davis had already earned a certain reputation in the Paris jazz scene.
In 1942 these five musicians were arrested during one of the frequent Gestapo raids at the "Ventadour" and transported to Vienna as forced laborers. "Wien ist anders – Vienna is different": it seems this slogan was true even during the Nazi regime, as the five musicians got the chance to stay in touch with each other. They even managed to reactivate their Parisian quintet and to expand to a sextet with another French musician, a saxophone player named Touca. A kind of vaudeville show emerged around this band, performing on weekends in forced labor camps in the Vienna area. The Frenchmen established contacts with Viennese musicians and gigs began to be organized in a more professional way.
Soon the drummer Arthur Motta, who was considered to be the boss of the French crew, started to enjoy a special status. In 1944 the "Reichssender Wien" even hired him to play with the dance band of this European radio station. Contacts to musicians in Vienna were intensified and sessions became more frequent. From time to time Motta would visit an underground clique of young jazz fans in the fifth district, the so-called "Panther Babies" (among them Uzi Förster, Roland Kovac and Helmut Qualtinger), teaching Viennese up-and-coming drummers a few tricks in exchange for "a couple of cigarettes", as drummer Jula Koch recalls.
The Austrian musicians' jazz skills did not manage to impress the French guys – which is hardly surprising, as their standards were high due to their time in Paris during the interwar period. Nazi officials kept watching these more or less illegal activities somehow helplessly – or at least with indifference – and in the end tolerated regular performances "at a venue in Riemergasse", as saxophone player and contemporary witness Rudy Kregcyk recalls. Kregcyk's guess ist that both French and Viennese musicians – Landl, Mytteis, the brothers Stumvoll as well as himself – remained under observation.
A photo taken at that time seems to underpin the claims that this "venue in Riemergasse" must have been the basement of the "Rondell", showing musicians in a place that can only be recognized as the building Riemergasse 11.
As soon as the war ended, the French musicians returned home; Motta turned out to be the most successful of them, later performing with clarinet player Hubert Rostaing and with Django Reinhardt. The Viennese musicians survived, too, and were able to contribute to the author's research on "jazz under the Nazi regime".
Around 1950 the home of the architect, musician and art lover Hannes Thanheiser in Gersthofer Straße came to be an open house for artists, open almost every night – music, mostly jazz, deep conversations (more or less full of content), alcohol and the initiation of "interpersonal contacts" being the ingredients of these meetings that would later have been called "parties".
At some point Thanheiser decided he wanted to use his home for himself again and wanted to transfer the meetings to another venue – maybe even to be able to make a little profit by "outsourcing" the activities. An offer of cooperation by two Swiss caterers who ran a venue named "Domino" in Vienna's Krugerstraße came at the right time. Mr. Amann and his partner would provide the drinks, Thanheiser would take care of the musicians and the audience. They opened their club one New Year's Eve (unfortunately the exact date could not be verified).
When Amann and his partner decided to raise drink prices, visitors stayed away – it mattered whether an espresso cost 1.50 or 2 Schilling in the fifties. But although this project turned out to be a failure, Hannes Thanheiser still held on to his idea of a jazz club of his own.
In those days Vienna's first district was full of venues that offered live music, although it was not always jazz that could be heard. Very often it would not even be acceptable mainstream music, but the post-war city was hungry for all things "American", including American music. Occasionally there would be unannounced jam sessions with young jazz musicians in different locations: in the basement of "Café Landtmann", on Sunday afternoons at the "Theater am Parkring", at "Café Giselahof" close to the Opera house, at the "Künstlerclub" in Akademiestraße and last, but not least at the legendary "Strohkoffer", residency of the Austrian Art Club. The main tenant of this venue was Max "Mäcki" Lersch, a guy who was able to knock over any counter when drunk. The only bar that resisted him was at Rondell – the counter was fixed with bolts.
Following the Domino affair, Hannes Thanheiser found a new partner for his concept to present jazz in public: Fritz Feichtinger, tenant of the Rondell. Neither Thanheiser nor anyone else can recall the exact date of the opening night. Although Lersch's contract for the Strohkoffer expired on February 15th, 1953, activities would continue there for at least one year, as Otto Fessl (a student then, a physician today, and a dedicated jazz fan) recalls. "Even in autumn 1953 there was a big session at Strohkoffer featuring saxophone players Karl Drewo and Hans Salomon – as a surprise there was even a fully equipped drum set on stage, which was a rare event. But whenever we decided there was nothing going on at Strohkoffer, we would visit Rondell."
The room in Rondell in which the jazz performances took place was named "Studio 1" by Thanheiser. A certain Adolf Wollmarker was running the bar – according to Thanheiser he was "a charismatic rascal and gifted card player, his pockets full of cash and obviously mistaking sales for profit". Despite a certain prosperity for Wollmarker as the caterer and Feichtinger as the tenant the musicians would not get paid for their performances. Still the ones with jazz ambitions would show up gladly as gig options for jazz musicians were limited. As Hans Salomon, who performed at Rondell many times, tells us, "most of them were beginners or amateurs, anyway. Top dogs like sought-after drummer Viktor Plasil never showed up".
Apart from the fact that he was living in the building right opposite the Rondell, the reason why Friedrich Gulda was a regular visitor at Studio 1 was that at that time his sister had a love affair with the junior boss of piano manufacturer Reisinger. Whenever Gulda was visiting the company's premises in Mariahilfer Straße, he would play on a particular piano grand. Hannes Thanheiser rented the piano and so managed to tie Gulda, who favoured this instrument, to the club. Gulda and the club owner Thanheiser (not an outstanding violin player, but mastering some concert pieces) would play together rather often – mostly these performances turned into a musical cabaret.
Concerts on the Reisinger piano, played four-handed by Gulda and Joe Zawinul – they used to call them "harmonic feasts" – can be described as the highlights of the mostly improvised musical program. Other musicians that are known to have played in Rondell were Paul Winzig ("winzig" meaning "tiny" in German) – a singer and piano player truly of small stature –, whom the Americans in their clubs named "Paul Wayne" and who would later adopt that name and migrate to the States, bass player Johnny Fischer (member of the Hans Koller New Jazz Stars in 1955) and the gifted all-rounder Uzi Förster.
Still, after a few months Hannes Thanheiser ended his business relationship with the Rondell's management. Although on some nights "more than 200 coats were handed in at the cloakroom" (Thanheiser), the Argentinean embassy had a table reserved at the venue every week and celebrities like the famous actor Albin Skoda used to visit the club, the cooperation with Feichtinger and Wollmarker did not turn out to be a business success for Thanheiser.
Jazz fan Otto Fessl still recalls the last evening at the "Rondell" – since word had spread that there would be no more concerts at the Rondell/Studio 1, only four or five visitors showed up on the very last night. The gloomy atmosphere failed to provide the right inspiration for the three musicians left: Zawinul, Thanheiser und "a bass player (Johnny Fischer?), who would always play wearing a blue suit". Zawinul grabbed Thanheiser's violin, who instead sat down at the piano, the bass player stayed with his own instrument ... and soon even the few guests had left the venue. Otto Fessl and the musicians ended up some other place, celebrating the (temporary) end of jazz at the Rondell.
Yet jazz activities at the Rondell were not given up completely with Thanheiser closing his Studio 1. Uzi Förster and his band (featuring Gerhard Hönig, considered to be Vienna's most "modern" trumpet player at that time) played in the Riemergasse at irregular intervals. Hönig still owns a placard announcing a concert "Just Jazz No. 2", which in fact never took place.
In 1956 some classmates invited the author to visit the Rondell with them. He was very excited at first – knowing about the jazz history of the place –, but soon found himself disappointed. Already there was a jukebox in the basement, and when some so-called "leather jackets" urged him to press "E 8" and Bill Haley's "Razzle Dazzle" started, his interest in the Rondell came to a sudden end.
The article is a shortened version of Klaus Schulz' "History of Jazz in Riemergasse".