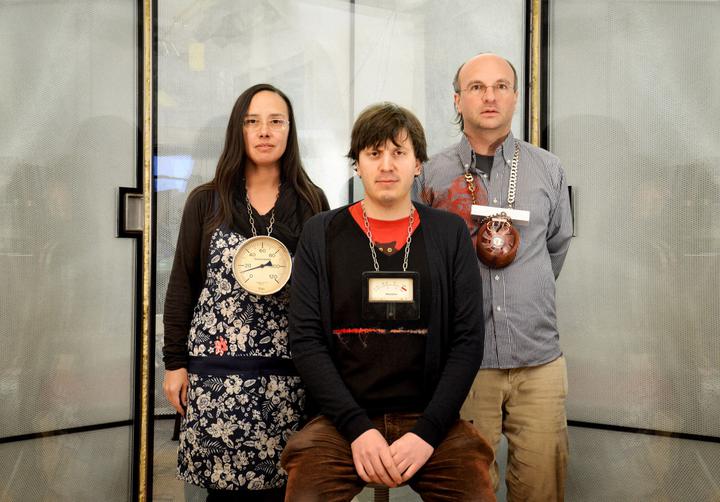 Pamelia Stickney: theremin
Chris Janka: guitar
Mark Holub: drums
We start the live-stream (real time, stream is not on demand!) about 1/2 h before the show starts. By clicking on "Now Live" a window opens, where you can watch the concert free of charge and without any registration. If you want, you can support this project with "Pay as you wish". Thank you & welcome to the (virtual) club!
A broken wind up children's toy, driving drums, theremin and distorted guitar crash together in this fun, mad-cap debut by three musical powerhouses. A collection of first-time-ever-played-one-take tracks, improvs, and songs, the 'Hurts so gut' LP is the work of Chris Janka (guitar), Mark Holub (drums) and Pamelia Kurstin (theremin). Originally Blueblut formed for a one off concert at Porgy & Bess for the 'Vienna Room Service' festival in 2013, but the Vienna based three liked what they played so much that they decided to continue. By the end of the year, powered by crates of beer, curries and sweets and with open access to Chris's basement studio, a distinct sound and album had emerged.
About the individuals in Blueblut: Pamelia Kurstin is probably the most recognisable player of the theremin in the world today, being instrumental in the instrument's development she is the go-to Theremin player. Alongside her own compositions and releases she has performed with the likes of Yoko Ono and David Byrne. Mark Holub is best known as the animated Anglo-American drummer and bandleader of London based and Mercury Prize nominated jazz-rock outfit Led Bib. Holub recently decamped from London to set up home in Vienna. Flying machine maker, sound engineer, guitarist and automata creator Janka is a kind of Viennese Caractacus Potts figure with a basement studio to rival Peter Blake's. He also recorded, engineered and mastered the record.