Ohad Talmor's Newsreel Sextet (USA)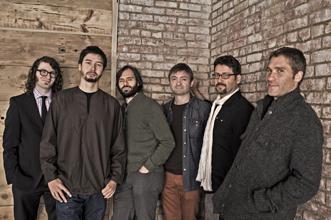 Ohad Talmor: reeds
Shane Endsley: trumpet
Jacob Sacks: piano
Miles Okazaki: guitar
Demian Cabaud: bass
Dan Weiss: drums
We start the live-stream (real time, stream is not on demand!) at the announced time the show starts. By clicking on "Now Live" a window opens, where you can watch the concert free of charge and without any registration. If you want, you can support this project with "Pay as you wish". Thank you & welcome to the real & virtual club! A
Ohad Talmor came to New York in 1995 to study music and since then made Brooklyn his home where he has been one of the "movers and shakers" of the creative jazz scene. On the ground floor of his Prospect Heights loft, he runs the performance space "Seeds".
Talmor, the cosmopolitan who today commutes between Europe and New York, is an outstanding improviser and expressive stylist. He plays with Lee Konitz, Steve Swallow, Adam Nussbaum or Jason Moran. In recent years, he has attracted widespread attention with the originality of his compositions and sophisticated arrangements, whether in his trio, sextet or orchestra.
The core members of Newsreel Sextet are Talmor's long-term fellow travelers: Jacob Sacks (p), Miles Okazaki (g), Shane Endsley (tp), Matt Pavolka (b) and Dan Weiss (dr), some of whom he first met at the Manhattan School of Music where he studied Composition in 1995 – fresh off the boat. Ohald Talmor: "The members of my band are friends, with whom I share a great artistic trust and bond. That's the personal side, which is very important to me. Just as important is the musical side, however. Each one of these musicians is a strong artistic personality. They have to be in a position to play my music convincingly – it's by no means easy and moves seamlessly between various genres: jazz, North Indian traditional and contemporary or New music."
Talmor's voice as a composer and improviser offers a powerful prismatic music which dances between rousing verve, powerful passages merging into lyrical and poetic ones. Individual expressiveness and introspection are seamlessly integrated into different musical forms. – A great adventure for the listeners.
https://ohadtalmor.com/newsreel/