Frank Delle Trio & MUK.jazzorchestra (D/A)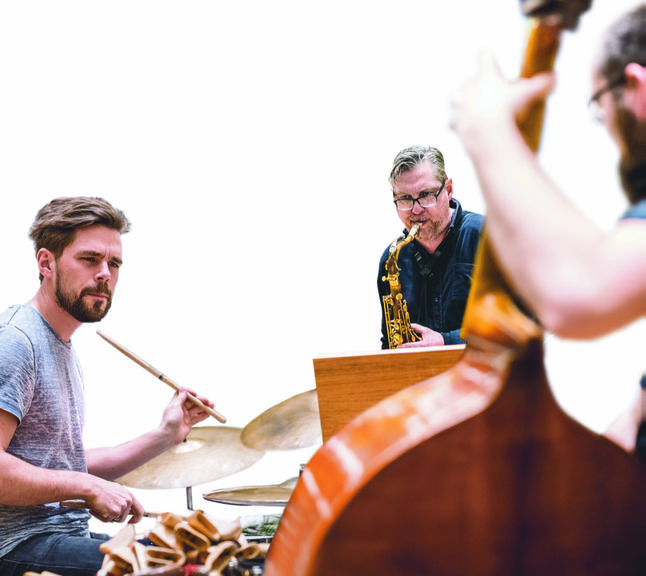 Frank Delle: reeds
Robert Landfermann: bass
Jonas Burgwinkel: drums
Lars Seniuk: conductor
MUK.jazzorchestra
Daniel Kluckner, Matej Novak: alto saxophone
Sara Hoffer: baritone saxophone
Diego Ansensio Martin: tenor saxophone
Stephan Hack, Marek Stibor, Jordi Roviro, Lorenz Widauer: trumpet
Daniel Holzleitner, Daniele Giaramita, Clemens Scheibenreif: trombone
Christina Baumfried: bass trombone
We start the live-stream (real time, stream is not on demand!) about 1/2 h before the show starts. By clicking on "Now Live" a window opens, where you can watch the concert free of charge and without any registration. If you want, you can support this project with "Pay as you wish". Thank you & welcome to the real & virtual club!
Sorry this part has no English translation
Mit dem Frank Delle Trio ist eines der innovativsten und spannendsten Ensembles Europas im Studiengang Jazz der MUK zu Gast. Neben seinem Namensgeber besteht das Trio mit Robert Landfermann (Bass, Professor an der MuHo Mannheim) und Jonas Burgwinkel (Schlagzeug, Professor an der HfMT Köln) aus zwei der kreativsten und meistbeschäftigsten Musikern der deutschen Jazzszene. Frank Delle selbst ist ein Virtuose auf dem Tenor- und Sopransaxophon und seit 2001 u.a. als Mitglied der renommierten NDR Bigband, dem Jazzensemble des Norddeutschen Rundfunks, international bekannt.
Zu hören sind seine Kompositionen, arrangiert für Jazztrio und Bigband von keinem geringeren als Geir Lysne, Professor an der NMH Oslo und Chefdirigent der NDR Bigband. (Pressetext)
https://muk.ac.at/
https://www.ndr.de/orchester_chor/bigband/Ein-tolles-inspirierendes-Umfeld,frankdelle103.html