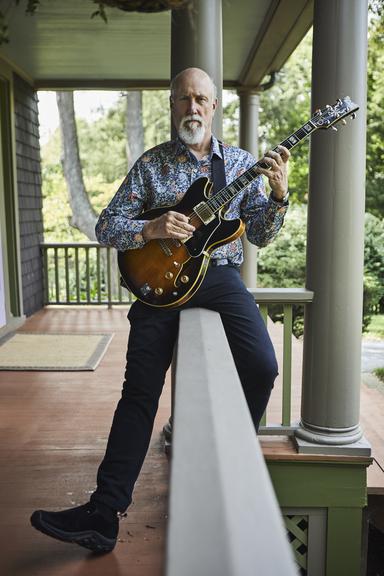 "My main focus in guitar playing has always centered around being part of a group; exploring the music that happens when musicians listen to each other and improvise together. Quite frankly, until now, I've avoided playing solo concerts. I still have occasional nightmares about playing Greensleeves for my sixth grade class! It gets pretty lonely up there by yourself and I hadn't considered solo guitar as the perfect platform for improvising. Not to mention that I'm no Segovia either! All that said, after playing guitar for 56 years, I'm finally interested in going it alone and exploring the possibilities. It's taken me decades to realize that I've been playing unaccompanied guitar at home or in hotel rooms every day since 1962! I've put a lot of thought in lately to how I can present an evening of solo guitar that represents my passions and sensibilities. My idea is to keep it song based, playing jazz, country and rock tunes that I love as well as some of my original compositions. I plan to employ my Looper pedal occasionally when I want to play over myself. I've been preparing for nearly a year, working my brain in new directions while looking forward to these shows with excitement and a small bit of trepidation. I hope you enjoy being on this journey with me." (John Scofield)
People can make jazz on their own (ask any fan of solo piano wizard Art Tatum). But most players thrive on interaction, many believe it to be an essential aspect of the art.
When John Scofield performs two solo shows at Boston's City Winery on May 15, the ex-Berklee College of Music student and current jazz guitar master will have someone to interact with. Well, sort of.
"When I play solo, I make these little (guitar) loops on the fly, I don't do prerecorded loops," Scofield told the Herald. "So I am having to respond to some music and it's almost like I'm playing with another person."
"I do say almost," he added with a laugh.
Scofield has played occasional solo gigs but they are a tiny slice of his epic career. Since his days at Berklee in the '70s, the guitarist has slowly built a resume as impressive as any living musician, including stints with Miles Davis, Billy Cobham, George Duke and Gary Burton (and younger aces like the trio Medeski, Martin and Wood). He has been on tour as a sideman or a band leader for most of his life.
"I haven't been home this much, been in one place this much, since 1975," he said. "I haven't not played gigs this long since I was 18. It's really weird, you start to lose your identity a little bit. … The fact that I'm 69 and I've had so many good years, I don't know, maybe I'm more prepared somehow than people who were just getting it happening in terms of gigs."
"I also feel sorry for the people who are 80 and older who only have a couple of years left to tour," he added.
The pandemic hasn't dramatically changed Scofield's approach to music or his career, but it has made him notice a few things. In the first few months, he was writing like crazy. But with nobody to jam out his tunes with, it didn't feel right.
"I wrote a whole album and then I realized that part of the writing process for me depends on working live with musicians, working the music out as a group," he said.
After realizing that making records depended on road testing material, on getting familiar with new tunes for a couple weeks of live dates before going into the studio, Scofield turned to spending time with just him and the guitar.
"I think that there's a delicateness that I have acquired from playing at home alone," he said. "I am so used to playing with a slamming band, which is what I love to do, and there's a certain muscularity to that. That went away and was replaced, I think, by, hopefully, this more delicate approach of pinpointing the beauty of the strings."
It's wonderful to have Scofield back and playing (face it, it's wonderful to have any kind of live music back). This solo approach is sure to bring some magic. Of course, as the world gets safer, having the slamming band back in action will be a treat as well. (JED GOTTLIEB, Boston Herald)
https://www.johnscofield.com/
https://www.arte.tv/de/videos/103440-026-A/john-scofield-solo-featuring-john-scofield-guitar-aerosolo-5/