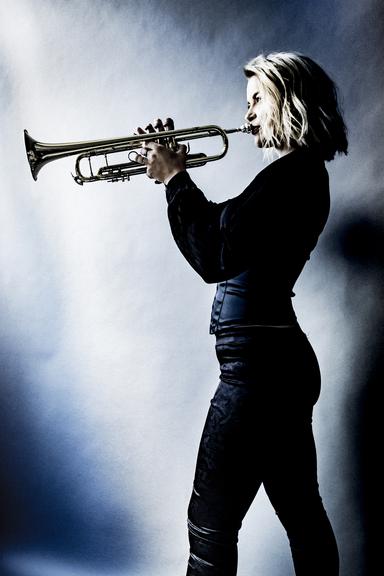 Bria Skonberg: trumpet, vocals
Mathis Picard: piano
Devin Stark: bass
Darrian Douglas: drums
We start the live-stream (real time, stream is not on demand!) about 1/2 h before the show starts. By clicking on "Now Live" a window opens, where you can watch the concert free of charge and without any registration. If you want, you can support this project with "Pay as you wish". Thank you & welcome to the real & virtual club!
New York Times jazz critic and DownBeat columnist Nate Chinen has called Bria "…the shining hope of hot jazz on the strength of a clarion trumpet style indebted to Louis Armstrong, a smooth purr of a singing voice inspired by Anita O'Day and the wholesome glow of youth".
New York based and Canadian born singer, trumpeter, and songwriter Bria Skonberg has been described as one of the "most versatile and imposing musicians of her generation" (Wall Street Journal). Bria has stormed onto the jazz scene with her smoky vocals, blistering trumpet, and compelling compositions and arrangements. The Juno Award winner has sung the music of Aretha Franklin alongside Michelle Williams of Destiny's Child, played with U2 at the iconic Apollo Theater, sat in with the Dave Matthews Band, was a featured guest with Jon Batiste, performed as part of The Monterey Jazz Festival on Tour, and sang the National Anthem at Madison Square Garden for a NY Rangers game.
Bria's Fall 2019 album, Nothing Never Happens, offers striking originals and creative covers of Queen, The Beatles, Duke Ellington, and more. Produced by Grammy Award winner Eli Wolf, Nothing Never Happens invites listeners to join Skonberg in diverting attention from the overload of social media, breaking news, political bickering and negative energy, with a stunning album that at times channels the ubiquitous anger and hopelessness that confronts us all in the modern media landscape, but at others manages to drown out that white noise and shine a light on the serene and the celebratory. Described by Bria as being "grittier, bluesy-er, and funkier," than her previous albums, its sounds are inspired by Tom Waits, Duke Ellington and Memphis Soul.