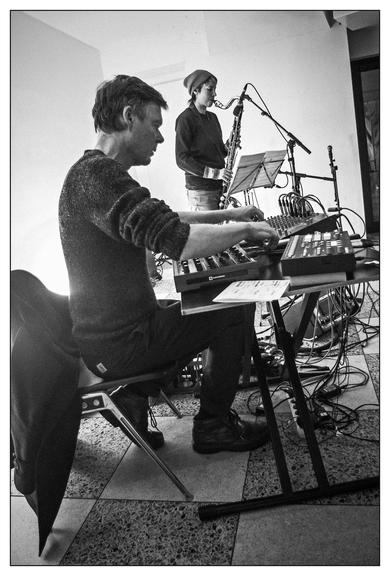 Susanna Gartmayer: bass clarinet
Stefan Schneider: electronics
We start the live-stream (real time, stream is not on demand!) about 1/2 h before the show starts. By clicking on "Now Live" a window opens, where you can watch the concert free of charge and without any registration. If you want, you can support this project with "Pay as you wish". Thank you & welcome to the real & virtual club!
Sorry this part has no English translation
SO SNER verdankt seine Existenz einem Konzert des Approximation Festivals, Düsseldorf.
Dort erlebte Stefan Schneider im Jahr 2015 Susanna Gartmayers facettenreiches und expressives Bassklarinettenspiel und fragte sogleich eine Zusammenarbeit an. SO SNERs im kommenden Frühling erscheinendes Debüt-Album "Reime" (TAL25) vermag einem das Wagnis und Experiment in frühen Duke Ellington Aufnahmen wieder verständlich zu machen. Nein, sie spielen keinen Swing, nicht mal Jazz, aber im Duett mit den immer wieder auf afrikanische Rhythmen verweisenden Sounds der elektronischen Gerätschaften, schafft die Bassklarinette jene Erfahrung des Neuen. So knüpfen SO SNER an die frühe Avantgarde an, wie auch an manch nie zu Ende gebrachten Experimente der späten Avantgarde Mitte der 80er.
Stefan Schneider stellt zusammen mit seinen vielfältigen musikalischen Tätigkeiten, ob vormals in den Bands Kreidler und To Rococo Rot, heute Solo als Mapstation, auch sein Label TAL in den Mittelpunkt seines Schaffens. TAL ist als als Projekt angelegt; Verbreitung von aktueller Musik, Begegnung, Recherche und Archivierung übersehener Musik, thematische Veranstaltungen.
Stefan Schneider
Musiker und Prodzemt, lebt in Düsseldorf. Gründer des Labelss TAL. Bands: Before Kreidler, Deux Baleines Blanches, Hauntologists, Kreidler, Music AM, September Collective, Sons Of Care, To Rococo Rot
Susanna Gartmayer
Musikerin, lebt in Wien. Co-Organisatorin der Montags Sessions im Celeste, Wien. Bands: Black Burst Sound Generator, Broken.Heart.Collector, dirac, Möström, Orchester 33 1/3
https://gartmayer.klingt.org/
http://www.talmusic.com/?cat=21