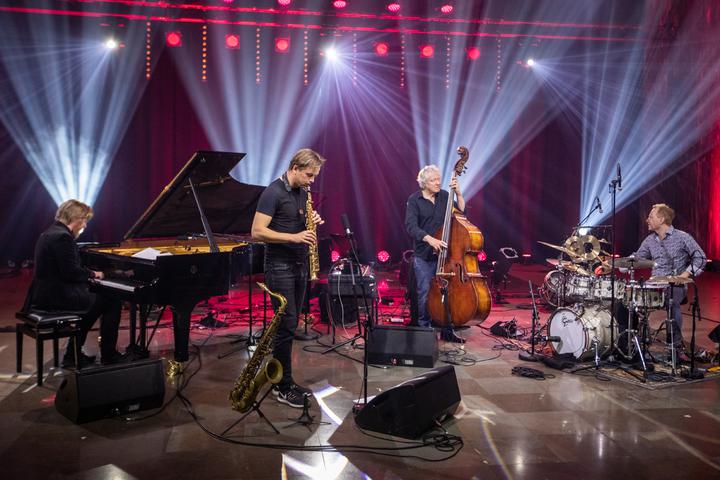 Arild Andersen: bass
Marius Neset: tenor saxophone
Helge Lien: piano
Håkon Mjåset Johansen: drums
We start the live-stream (real time, stream is not on demand!) about 1/2 h before the show starts. By clicking on "Now Live" a window opens, where you can watch the concert free of charge and without any registration. If you want, you can support this project with "Pay as you wish". Thank you & welcome to the real & virtual club!
Arild Andersen made his ECM debut as member of the Jan Garbarek Quartet along with Terje Rypdal and Jon Christensen on Afric Pepperbird. In the same period he also worked with Norwegian singer Karin Krog and played in the rhythm section for visiting American musicians such as Phil Woods, Dexter Gordon, Hampton Hawes, Johnny Griffin, Sonny Rollins and Chick Corea. In 1974 Andersen formed his own quartet, which toured Scandinavia and Europe and recorded three albums for ECM.
In 1980 Andersen put together a band that included Kenny Wheeler, Paul Motian and Steve Dobrogosz (Lifelines) and the following year recorded A Molde Concert with Alphonse Mouzon, Bill Frisell and John Taylor. In 1982 he formed The Arild Andersen Quintet with Jon Christensen, Jon Balke, Tore Brunborg and Nils Petter Molvær. The band subsequently changed its name to Masqualero and remained at the forefront of European jazz for a decade.
Subsequently Andersen has explored the possibility of combining traditional Norwegian folk music with improvised music. In 1988, he started a collaboration with singer Kirsten Braaten Berg, a leading Norwegian folk musician, which led to the successful work Sagn, premiered in 1990 and later released by ECM.
In 1998 he formed a trio with German trumpeter Markus Stockhausen and French percussionist Patrice Heral. This trio, with Terje Rypdal as a guest, made a CD called Karta, released in 2000. In 1999 Andersen started a new trio with English drummer John Marshall and the Greek pianist Vassilis Tsabroupolos, which released two discs: Achirana (2000) and The Triangle (2004).
A work commissioned in 2005 for a duo with saxophonist Tommy Smith, Independency, led to the formation of his most recent trio with Paolo Vinaccia on drums and Smith on saxophone. This trio made a live recording at the club Belleville in Oslo in the autumn of 2007. ECM released the following year as Live at Belleville. It got rave reviews and this trio, which performs worldwide, remains Arild Andersen's main project today. Of their 2014 release, Mira, the Sunday Herald reviewer wrote: "Andersen's tone has always been a thing of beauty and his playing here is by turns robustly supportive, subtly suggestive and pliantly probing".