Emile Parisien Sextet 'Louise' feat. Theo Croker (F/USA/I)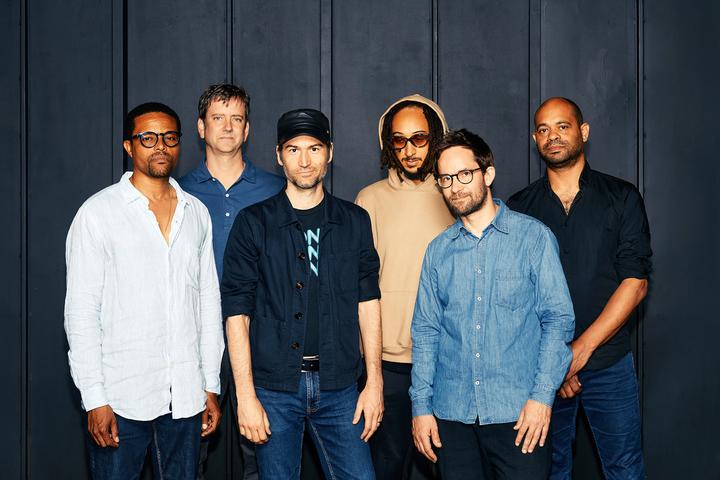 Emile Parisien: soprano saxophone
Theo Croker: trumpet
Manu Codjia: guitar
Roberto Negro: piano
Joe Martin: bass
Nasheet Waits: drums
We start the live-stream (real time, stream is not on demand!) about 1/2 h before the show starts. By clicking on "Now Live" a window opens, where you can watch the concert free of charge and without any registration. If you want, you can support this project with "Pay as you wish". Thank you & welcome to the real & virtual club!
The French jazz scene has a vitality, an originality and a do-it- all and do-it-anyway mentality about it right now. It is French musicians who are blazing the new trails for contemporary European jazz. There is a wonderful open-mindedness towards all musical cultures, genres and tendencies; and yet French musicians also give off the sense of having a proper grounding in their own tradition. A musician who represents all of these tendencies 'par excellence' is saxophonist Emile Parisien. Born in Cahors in the wine-growing region of the Lot, he is a jazz visionary. He may have one foot in that ancient soil, but his gaze is firmly fixed on the future. The leading French newspaper Le Monde has called him "the best new thing that has happened in European jazz for a long time," while the Hamburg radio station NDR made the point of telling its listeners to give Parisien their "undivided attention."
The reference points on Parisien's personal musical map are very widely spread indeed. They range from the popular folk traditions of his homeland to the compositional rigour of contemporary classical music, and also to the abstraction of free jazz. And yet everything he does has a naturalness and authenticity about it. Rather than appearing pre-meditated or constrained, his music has a flow, he traverses genres with a remarkable fleetness of foot and an effortless inevitability.
What is it that makes the simple urgency of Parisien's music quite so enjoyable? How does he manage to combine a provocative and anarchic streak with such a captivating sense of swing? Anyone who has seen and heard him on stage will know: it is because he lives his jazz with body and soul, because there is an authenticity and honesty inflecting every breath and every note.
https://www.actmusic.com/Kuenstler/Emile-Parisien
https://soundcloud.com/actmusic-1/2110_louise_emile-parisien_mashup/s-pvDPA7urCdc?si=5f03248c4d7d4e69b63b74f40f89ecc8