Carlos Sarduy Groove Messengers (CU)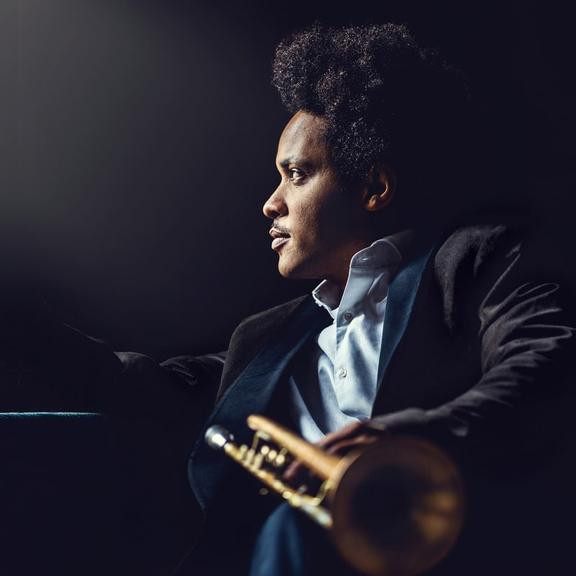 Carlos Sarduy: trumpet, congas, keyboards
Rolando Luna: piano, keyboards
Felipe Cabrera: bass
Lukmil Perez: drums
special guest: Radovan Tariska: alto saxophone
We start the live-stream (real time, stream is not on demand!) about 1/2 h before the show starts. By clicking on "Now Live" a window opens, where you can watch the concert free of charge and without any registration. If you want, you can support this project with "Pay as you wish". Thank you & welcome to the real & virtual club!
The new project from the Cuban Jazz virtuoso Carlos Sarduy, reflects the ultimate artistic freedom, where the stage becomes a playground for the "hermanos" in musical spirit. 
When the four friends come together for Sarduy's project, melody, improvisation and groove merge into a musical "dish", almost as if curated from a group of auditorial masterchefs, umami-ing their way through a tasting menu of tunes, where it is (also and very) evident that they enjoy themselves, mastering, creating, playing and passing on their musical statements and creations to the lucky audience.
The audience is invited directly to the chef's table - An intimate setting, at the front and center of the exquisite musical cuisine of the experienced Cuban homies; Soulful and dedicated musicians, cooking up an audio-sensory and sensitive experience of Sarduy's enchasing music. Connecting in their own holistic way, through their friendship and music. Unpretentious virtuosity. Sarduy's compositions are contemporary and multilayered, influenced by the Afro Cuban tradition of the streets - as well as the international jazz scene of today. He identifies equally with the masters of Cuban, American and African tradition and has developed a sound of his own where he effortlessly travels between those roots and almost futuristic, transcended melodic soundscapes. 
The Cuban trumpet player Carlos Sarduy, has received one GRAMMY AWARD together with Chucho Valdés for Irakére 40 and two LATIN GRAMMY AWARDS. Taught to play the trumpet by his father, Carlos showed a huge talent already from the age of 3. The child prodigy went on to to study music in school, and music became his natural way of expressing himself. Once you hear his amazing playing, you know you are into something not only unique, but splendid and outstanding. Besides being a spectacular trumpet player and composer,  the multi talent is also a composer, pianist, percussionist and producer. He collaborated with great artists such as Chucho Valdés, Bebo Valdés, Steve Coleman, Mariza, David Murray, Esperanza Spalding, Concha Buika, Ainhoa Arteta, El Comité, Richard Bona and Alfredo Rodriguez. 
Considered to be one of the most brilliant and recognised Cuban pianists of his generation, Rolando Luna presents his musical universe where poetry, improvisation and virtuosity are marvelously combined. Rolando Luna is above all the continuity of the beautiful history of Cuban music through music that reflects the diversity of influences that characterise it. Lined up with Chucho Valdes, El Comité and Omara Portuondo and many other prominent of the Cuban music scene.
Gastón Joya currently represents the avant-garde of double bass in contemporary Cuban jazz. He has shared scenario and various performances with artists or bands such as Chucho Valdés, Leo Brower, Omara Portuondo, Joe Lovano, Buena Vista Social Club, Eliades Ochoa, Síntesis, Silvio Rodríguez, Pablo Milanés, Winton Marsalis, Alfredo Rodríguez, Calle 13, El Comité, Cuba's National Symphonic Orchestra and Sting, among others. Gastón Joya is an artist who seeks the global from his essence, from his work as an instrument's player, songwriter and musical producer.
Barreto, is synonymous with excellence in drumming in Cuba, as Rodney Barreto's uncle is Julio César Barreto. Rodney's great uncle was a composer for Cuban singers, including the famous Benny Moré.. It doesn't matter if it is salsa, jazz, rock, hip-hop… Rodney Barreto is the owner of a very personal style and groove, that has made him one of the youngest and brightest drummers in Cuba. Played with Chucho  Valdes, Isaac Delgado's Orchestra, Omara Portuondo, Havana de Primera, Roberto Carcacés, El Comité and many more.
http://www.oneworldsmusic.com/carlos-sarduy