Dave Holland / Zakir Hussain / Chris Potter 'Crosscurrents Trio' (GB/IND/USA)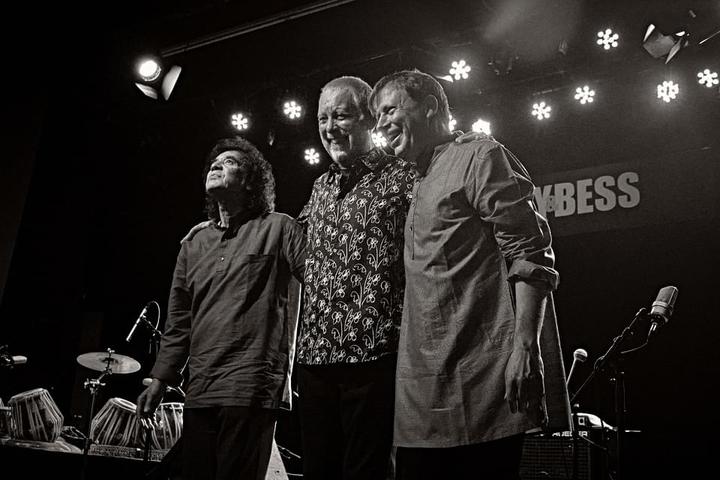 Dave Holland: bass
Zakir Hussain: table
Chris Potter: tenor, soprano saxophone
We start the live-stream (real time, stream is not on demand!) about 1/2 h before the show starts. By clicking on "Now Live" a window opens, where you can watch the concert free of charge and without any registration. If you want, you can support this project with "Pay as you wish". Thank you & welcome to the real & virtual club!
The incredible world fusion trio co-led by British bassist Dave Holland, Indian tabla expert and percussionist Zakir Hussain, and American saxophonist Chris Potter is in the active since 2018. When playing in this configuration, these virtuosos are collectively called Crosscurrents Trio and their debut record, Good Hope, is now out on Edition Records. The album comprises eight compositions, three from Holland, three from Potter, and two from Hussain. Each of them are individual, but they perfectly integrate here as a whole, to the point of making us think it could have been composed by only one person.
The combination of Indian classical and Western instrumentation comes immediately to our attention on the opening track, "Zindi", where Holland and Hussain lay down a sumptuous baseline that serves Potter's hybrid cooking, naturally infused with post-bop and Eastern seasoning.
The East-West-minded sensitivity is again strongly present in tunes such as "J Bhai", delivered with an incantatory three time feel and promoting several shifts in tempo, and "Bedouin Trail", which, while advancing with hypnotic rhythmic layers at a caravan-like pace, features Potter exchanging bars with his associates. This piece focuses on the traditional folk from South Asia.
Far more Westerner and post-bopper in nature, "Island Feeling" is perhaps the jazziest piece on the record, but can't surpass the cross-cultural emotions of "Lucky Seven" and the title track. The former, penned by Holland, is an emissary of coruscating energy. Hussain initiates the ride with a complex tabla rhythm, with Holland interlocking a half-Indian, half-funk groove. The spirited, curvy high flies of Potter's soprano come impregnated with rhythmic figures and chromaticism, with the tune ending in circular movement that emphasizes rhythmic accentuation. In turn, Potter's "Good Hope" is all about the groove and the richness of interplay. The sidestepping improvisatory maneuvers from bass and saxophone contribute to elevate this piece into dizzy heights.
Good Hope offers a ripe set of music made by masters who bring myriad colors and influences into their playing. By navigating through exquisite series of textures and producing energizing chants, the trio calls up a potential range of beautiful, exotic images with these tunes. Listening to them is a phenomenal experience. (Pressetext)
https://crosscurrentstrio.bandcamp.com/album/good-hope
https://daveholland.com/
http://www.zakirhussain.com/