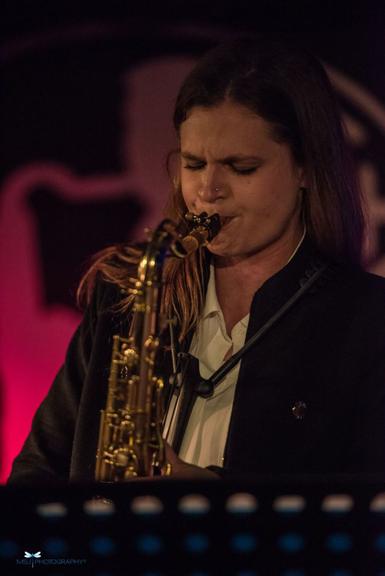 Nicole Glover: tenor saxophone
Clarence Allen II: bass
Kayvon Gordon: drums
We start the live-stream (real time, stream is not on demand!) about 1/2 h before the show starts. By clicking on "Now Live" a window opens, where you can watch the concert free of charge and without any registration. If you want, you can support this project with "Pay as you wish". Thank you & welcome to the real & virtual club!
Nicole Glover is a saxophonist, bandleader, composer, and educator currently based in New York City. Growing up in Oregon, she was introduced to the music through her father's record collection, and studied in programs dedicated to learning jazz music and priming students for touring and performing, such as the award winning American Music Program and Next Generation Jazz Orchestra. She moved to the East Coast to attend William Paterson University, where she studied with Mulgrew Miller, Harold Mabern, and Rich Perry, and assumed permanent residence in NYC in 2015. She established herself as a rising saxophonist and indemand sideperson, performing throughout North and South America, Europe, Africa, and the Middle East, and working with esteemed artists such as with Victor Lewis, George Cables, Dee Dee Bridgewater, Christian McBride. Billy Hart, Esperanza Spalding, Renee Rosnes, Kenny Washington, Reggie Workman, Gene Perla, George Colligan, Ben Wolfe, Ulysses Owens, Mike Clark, Jeff "Tain" Watts, Joe Farnsworth, Allison Miller, Joel Ross, Geoffrey Keezer, David Weiss, Luis Perdomo, Aaron Diehl, Jason Brown, Rodney Green, and Bill Goodwin. Additionally, she joined Latin Grammy winning artist Buika for her 2019 world tour, and was invited to join Blue Note supergroup ARTEMIS beginning in 2020.
Nicole has been leading her own band for three years, with residencies at SMOKE, Smalls, Fat Cat, and through Jazz at Lincoln Center. In 2021, she released her HighNote/Savant records debut "Strange Lands", featuring her regular trio plus the venerable pianist George Cables, to glowing reviews and acclaim, eventually rising to #12 on the Jazzweek radio charts after only a few weeks. The Times UK gave it 4 of 5 stars, calling it "otherworldly".
Nicole is also an experienced educator and clinician. She is currently teaching at The New School for Jazz and Contemporary Music, and has participated in Jazz at Lincoln Center's "Jazz For Young People" educational outreach program. (Pressetext)