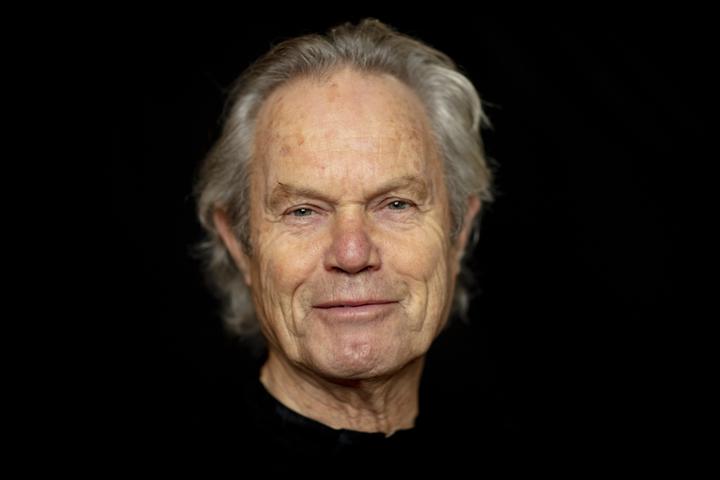 Chris Jagger: guitar, vocals
John Jagger: vocals, guitar
Eliett Mackrell: vocals, fiddle, bass pedals
Paul Atkinson: drums
We start the live-stream (real time, stream is not on demand!) about 1/2 h before the show starts. By clicking on "Now Live" a window opens, where you can watch the concert free of charge and without any registration. If you want, you can support this project with "Pay as you wish". Thank you & welcome to the real & virtual club!
Chris Jagger has been busy, as, it seems, he always is. There's been the song writing: adding to the pile of 100+ compositions he's created, recorded and had published over the years and heard on the dozen albums he's released, some solo, some with his band Atcha. And there's been the small scale animal husbandry: he and his wife keep chickens and sheep at the farmhouse near Glastonbury they've called home for 20 years. In fact keep an ear out, because some of that livestock is about to have a walk-on part on his brand new album Mixing Up The Medicine, scheduled for release on September 10th through BMG.
In addition, Jagger also spent lockdown completing his long-in-the-works memoir and autobiography Talking To Myself, which is published on September 10th. It's a rich, detailed, hilarious, gossipy tale that digs deep into he and his older brother Mick's upbringing in Dartford, Kent, and plots the siblings' emergence into adulthood and shared lifelong appreciation for the blues. It also chronicles the younger Jagger's musical adventures from the Seventies onwards with entertaining detours into his travels to India, Pakistan, Afghanistan and Israel, where he also acted in a production of the musical Hair.
"I thought about starting a book in the 1990s, because I began writing some journalism pieces," explains this lifelong multi-tasker whose CV also includes treading the boards with Pierce Brosnan and Ciarán Hinds, making blues documentaries for the BBC and Sky Arts, and fleeting lyric additions on two Rolling Stones albums, Dirty Work and Steel Wheels.
"I did float the project to a couple of people, but I found the literary world was rather stodgy. I got a literary agent – this is in the days when people still wrote typed letters – but I didn't get any further than a couple of sample chapters. So, I put it on the back burner. The funny thing was that once I turned the grand old age of 40 I somehow seemed to change my disposition. I just determined to do what I liked, and I didn't really care what others might think. Perhaps I'd been too defensive in covering up my inadequacies and wary of criticism in the past. You might seek to justify your actions too much. What people write or say in the newspapers can be quite hurtful if you let it get to you."
He continues, "I just thought, to hell with it, and proceeded to play the music I wanted, even if it wasn't commercial. Perhaps others might come around to it. One thing about Cajun music, I thought, was that it won't go out of fashion as it's never been in fashion. It was more like folk music, it was there for people to enjoy if they discover it."
So Jagger finally cracked on with writing his book in 2019. It meant taking time off gigging, something he's done much of his adult life - his last jaunt was a world tour with Charlie Hart in 2018/9 - and he turned lockdown into an unexpected bonus because, he explains, "writing took longer than I anticipated. I did find I had to give it my full attention, and it was a lot harder than I thought. It's all very well linking a lot of stories together, but what's your style? I wrote it myself – I didn't have a ghost writer – so I had to find my voice. And you don't want to get too literary, but you can a little bit, so why not?"
Was it important, too, to tell his story of The Rolling Stones?
"Well, if you can appreciate being 14, 15 and going to see your brother in a blues band, that I thought was more interesting than my contemporaries' experiences; they liked Marty Wilde and Cliff Richard, and I was listening to Jimmy Reed and Howlin' Wolf. That was so much more grown-up. Being introduced to that music gives you a window on a completely different world."
He continues, "There's one passage in the book where I go and see the fledgling Rolling Stones in The Scene club in London. I'd actually written that up some years before, when I could remember all the detail like Keith in his beret! But that felt like a seminal bit in the book so I spent a lot of time trying to bring it alive.
"But the chapters I most enjoyed writing were my travels, particularly to India. I probably should have been a travel writer. But I didn't really fancy telling everyone about the wonderful places I'd been to, because then they go there and fuck it up!" notes this hilariously no-nonsense man who's also clearly a lifelong imbiber of truth serum.
And then, of course, if Mick doesn't write his own memoir, will Talking To Myself be the only book of record of the Jagger family?
"Well, I don't know," Chris demurs. "I said to him, 'I've almost finished my book, now let's do yours and he laughed.' He'd do a fantastic book. He has a pretty good memory so I would like to read his story for one. We share similar early influences, and our parents were centre to that so I hope readers will find those details interesting; what my mother and father looked like for example. Writing can be quite prosaic and descriptive, it doesn't have to be all poetry. I have even included got some recipes in mine" he smiles.
As for the title? He chirpily confesses that it took a while.
"An alternative title was I Was There. Or, another one: Relative Obscurity" he laughs gamely. "I mean, it's not easy finding a title. Elton John called his Me. Is that a good title?"
In the end Jagger plumped for Talking To Myself and wrote a jazzy tune with the same name to go on his new upcoming album, Mixing Up The Medicine. Released a day later on September 10th, Mixing Up The Medicine is a loose, lively collection of Jagger/Hart originals, some written in collaboration with a poet who's been dead 172 years, and the rest with his long standing musical wingman, pianist Charlie Hart.
Working out of a studio in South London near Hart's Lewisham home, at Jagger's farmhouse, and down the line to each other when lockdown restrictions were in force, the pair worked intensely. "It's the most collaborative record we've done."
They also called in a hit-list of top players to flesh out their music: old friend Olly Blanchflower on double bass; Atcha band alumnus Dylan Howe on drums, "a very respected jazz player who also plays rock & roll with Wilko Johnson" and another friend, veteran producer John Porter, who's worked with everyone from The Smiths to Roxy Music, Buddy Guy, BB King and Elvis Costello. Porter in turn hired experienced guitarist Neil Hubbard (Bryan Ferry, Joe Cocker), with some south London mates of Hart on horns, Nick Payn and Frank Mead.
"Then I got in John Etheridge - who's an old pal and who once played with Soft Machine - to add some jazzy guitar, and Jody Linscott who I've known since the Seventies, on percussion. Mostly the tracks were cut live in the studio as that's what I know, plus it gives gainful employment out." Into that category we can also add brother Mick on backing vocals.
As for Chris and Charlie's inspiration, the inventive pair roamed far and wide:
"Charlie's a bit of a jazzer, so we did two or three tracks like that. Then I found this obscure poet called Thomas Beddoes," he says of the early 19th century writer and physician. "I was reading this book by Ezra Pound, and he mentioned Beddoes. I thought, well, if Pound mentions him, I gotta look him up. So, I found this book of his called Death's Jest Book, in which he wrote these kinds of weird plays. He was a poet from Bristol, and his father knew Shelley, so he was coming in just after the Romantic poets. He was an alcoholic and he committed suicide by poisoning himself in Basel in 1849. He was only 45.
"So I read some of his verse and took them and put them to music. I just thought he needed a bit of a shout, being a largely ignored poet, of which there are many…"
Jagger used Beddoes' poems for three songs: the irresistible Madness-like ska-pop knees-up of the opening Anyone Seen My Heart?, the sea shanty-ish Loves' Horn and the voodoo soul of Wee Wee Tailor. Into Hart's 'jazzer' category we can fit Talking To Myself, the New Orleans sass of Merry Go Round and the in-the-wee-small-hours croon and groove of A Love Like This. Honourable mention, too, to the comforting bluesy lament of Hey Brother, a lovely ode to lifelong fraternal bonds.
But one thing unites all the songs: a rawness, a looseness, and the sense of a band of brothers having a ball.
"Let's face it, we're coming to the end of our careers" he concedes, "You never know if it's gonna be your last record. So, with all the players I got the feeling that they were going out to show that they still had it, still could play and they would put more into this than if this was just a regular session. They were totally committed."
Taken together this is Mixing Up The Medicine: a joyful, life-enhancing album by a man well versed in a whole range of musical styles, distilled right here into 10 tight tracks.
"Then I realised 'mixing up the medicine' is also a line in Subterranean Homesick Blues" Jagger chuckles. "I'd forgotten that. But I'm a big Bob Dylan fan, so that can't be a bad thing, right?"
May 2021
http://www.chrisjaggeronline.com/