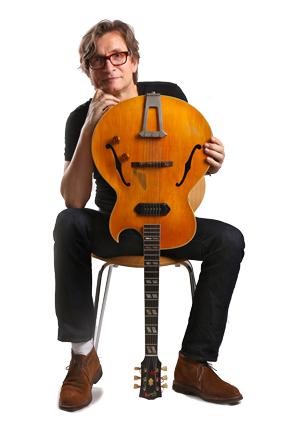 Rudy Linka: guitar
Christiaan van Voorst van Beest: bass
Rudy Royston: drums
We start the live-stream (real time, stream is not on demand!) about 1/2 h before the show starts. By clicking on "Now Live" a window opens, where you can watch the concert free of charge and without any registration. If you want, you can support this project with "Pay as you wish". Thank you & welcome to the real & virtual club!
Rudy Linka, born in 1960 Prague, Czechia, is a world-famous guitarist, composer/arranger/producer. Rudy began playing music on the violin at the age of five and switched to guitar nine years later.
He moved to Sweden in 1980 where he continued his studies of both classical and jazz guitar and composition. In 1985 he was awarded the Jim Hall fellowship to study at Berklee College of Music in Boston and in 1986 he was awarded a stipendium at The New School in New York City. Rudy studied with three of the most legendary guitarists in the field: Jim Hall, John Abercrombie and John Scofield. After decades of studies he was finding his own voice that today signifies the music of Rudy Linka.
" ..Rudy's intelligent playing represents the kind of import Americans should be buying" The Philadelphia Inquirer
"Linka demonstrates confidence, clarity and near-perfect balance of tasty in-ness and twisty out-ness. Like Jim Hall meets John Scofield." DownBeat Magazine
Today, Rudy is hosting his own weekly radio show on Czech Radio – "Přímá linka" and his own TV-show "Linka" on Czech Television.
Rudy is the founder and the Artistic Director of the international music festival Bohemia JazzFest that takes place every July for two weeks in several cities in Czechia. The event attracts over 90 000 attendees every summer. Rudy is a MESA/Boogie and Thomastik-Infeld endorsed artist.
https://www.rudylinka.com/
http://www.chrisvanvoorst.com/
https://www.rudyroyston.com/