James Blood Ulmer Music Revelation Ensemble (USA)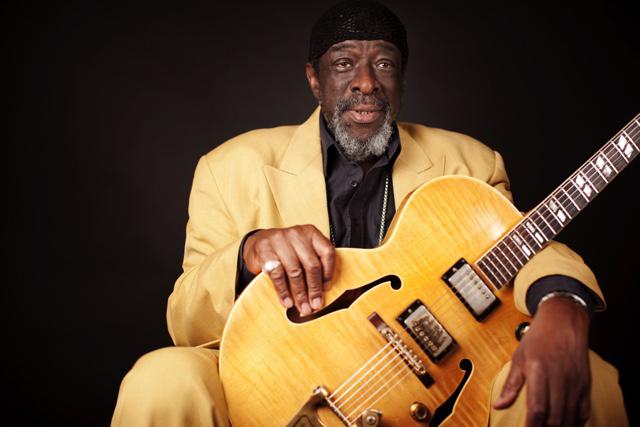 James Blood Ulmer: guitar
Mark Peterson: bass
Grant Calvin Weston: drums
We start the live-stream (real time, stream is not on demand!) about 1/2 h before the show starts. By clicking on "Now Live" a window opens, where you can watch the concert free of charge and without any registration. If you want, you can support this project with "Pay as you wish". Thank you & welcome to the real & virtual club!
American Revelation Music presents James Blood Ulmer an evening with a blues, jazz and guitar legend James Blood Ulmer at 80 is among the most distinctive and influential electric guitarists to arise in the past four decades. James Blood Ulmer has made a career built on left turns and reinvention. And now in the 21st century, Ulmer continues to progress as his most recent history finds him being recognized as an elder statesman of the blues. At the core, however, remains the one and only James Blood Ulmer.
"... the missing link between Jimi Hendrix and Wes Montgomery on one hand, between P-Funk and Mississippi Fred McDowell on the other."– Greg Tate, Village Voice
Forging an unyielding synthesis of musical styles, vision and virtuosity, Ulmer has left an indelible mark on those keen ears who've dared to follow him to that great nether where the fiercest, most holy music occurs. Too primitive for sophisticated jazz audiences; too funky for the four-bar blues crowd; too country for the urban funk kind; too psychedelic for straight-ahead rock fans; his audience, like many of the great artists of the 20m century, is small yet rabid, proving him a cult icon of the truest nature. As Blood once declared, "I have the same audience, it seems to me, wherever I go. I'm not hooked up to no commercial audience, but everyplace I've played seems to know my music."
"Ulmer is a leading interpreter of the blues - transcendent and edgy." – Washington Post
"Ulmer still sings as if 20 miles of bad road lie ahead." – Miami New Times
One of the most expressive guitarists on the planet James Blood Ulmer is the undisputed keeper of the flame for the "Harmolodic" movement created by Ornette Coleman. Blood takes the fundamentals of Harmolodic and applies them at will to any genre he pursues, from rootsy Americana, hyper funk, Hendrix inspired cosmic blues, rock, you name it. This is a man who knows what he's doing.
He plays guitar in his own inimitable way. It is not blues guitar exactly, at least in the sense of the urban blues traditions coming out of the '50s and beyond. The same goes for his vocals and his songwriting. These are songs sometimes drenched in the blues. Like Hendrix before him he flirts with the blues but rarely actually directly launches into the medium per se. Now if you don't care for definitions of what is or isn't in cases like this, I don't blame you. James Blood Ulmer is James Blood Ulmer is James Blood Ulmer. And that's a good thing to be.
There is the blues and there is James Blood Ulmer. Do not confuse the two. Mr. Ulmer has been an artist who can go in any number of directions over the years. Funky things, more outside electric excursions, and music that has a rootedness in the blues, but really is James Blood Ulmer music.
https://de.wikipedia.org/wiki/James_Ulmer
https://www.facebook.com/James-Blood-Ulmer-414103995309902/