Austrian Jazzcomposers Orchestra (alias Nouvelle Cuisine) 'Big Band Event #8' (A)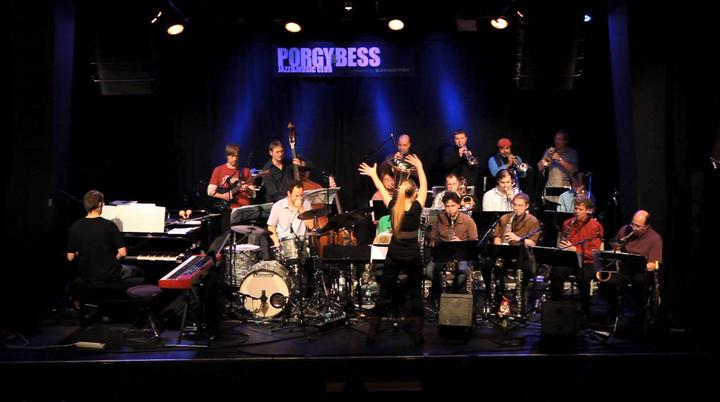 Komponist:innen
Afamia Al-Dayaa, Bamdad Xosh, Carl Tertio Druml, Doina-Cezara Procopciuc, Dominik Förtsch, Eric Ziegelbauer, Fabio Felsberger, Felix Pöchhacker, Florin Gorgos, Georg Klöpfer, Hannah Lena Rebel, Hsuan-Hsuan Lee, Hyeongseop Im, Julius Meisse, Jumi Lee, Masao Ono, Maximilian Wintersperger, Noemi Haffner, Oskar Gigele, Ti-An San, Yeison Fernando Buitrago Vargas, Yongjin Lee
Austrian Jazzcomposers Orchestra
Andreas See, Robert Schröck, Christian Kronreif, Manfred Balasch, Jürgen Haider: reeds
Bernhard Nolf, Aneel Soomary, Martin Ohrwalder, Walter Fend: trumpets
Robert Bachner, Phil Yaeger, Gerald Pöttinger: trombones
Alex Rindberger: tuba
Michael Hornek: piano, keyboards
Andreas Erd: guitar
Tibor Kövesdi: bass
Lukas Knöfler: drums
Ein Projekt unter der Leitung von Christian Mühlbacher
We start the live-stream (real time, stream is not on demand!) about 1/2 h before the show starts. By clicking on "Now Live" a window opens, where you can watch the concert free of charge and without any registration. If you want, you can support this project with "Pay as you wish". Thank you & welcome to the real & virtual club!
Sorry this part has no English translation
Alle drei Jahre versammelt Christian Mühlbacher eine Schar junger, hoffnungsvoller MedienkomponistInnen um sich, mit dem Auftrag neue, hochindividuelle Werke für das Austrian Jazzcomposers Orchestra (alias Nouvelle Cuisine) zu komponieren.
Diese Abende offenbaren eine Menge neuer Ideen und stecken voller frischer Energie. Am 12.Dezember ist es wieder soweit! Wir dürfen gespannt sein! (Christian Mühlbacher)
http://www.nouvelle-cuisine.at/
http://www.christianmuehlbacher.com/