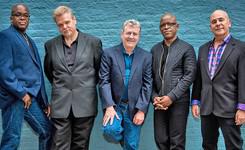 Jay Beckenstein: tenor saxophone
Tom Schuman: keyboards
Julio Fernandez: guitar
Scott Ambush: bass
Lionel Cordew: drums
We start the live-stream (real time, stream is not on demand!) about 1/2 h before the show starts. By clicking on "Now Live" a window opens, where you can watch the concert free of charge and without any registration. If you want, you can support this project with "Pay as you wish". Thank you & welcome to the real & virtual club!
As Spyro Gyra looks forward to 2020 and beyond, they show no sign of slowing down. Over the last 40+ years, they have performed over five thousand shows, released thirty-one albums (not counting "Best Of…" compilations) selling over ten million albums while also achieving one platinum and two gold albums. Although few acts have accomplished this type of record, they have done it by constantly challenging themselves as is evidenced by their last studio release "The Rhinebeck Sessions" which was written and recorded over three days in the studio.
Born in Brooklyn, bandleader Jay Beckenstein grew up listening to the music of Louis Armstrong, Charlie Parker, Sonny Rollins and Dizzy Gillespie, and started playing the saxophone at age seven. Beckenstein attended the University at Buffalo, starting out as a biology major before changing to music performance (read classical and avant garde). During summer breaks, he and an old high school friend, keyboardist Jeremy Wall, played gigs together back on Long Island. Wall attended college in California, and after both graduated, Beckenstein stayed in Buffalo's thriving music scene, where Wall eventually joined him.
"Not many people know it, but Buffalo was like a mini Chicago back then, with a smoking blues, soul, jazz, even rockabilly scene, of all things," Beckenstein muses. "After being confined to classical music for so long, it was heaven. I was in the horn sections around town, backing some great vocalists."
Spyro Gyra, whose odd name has since become world famous, was first known simply as "Tuesday Night Jazz Jams," a forum wherein Beckenstein and Wall were joined by a rotating cast of characters. Tuesday just happened to be the night when most musicians weren't playing other gigs to pay their bills. Around this time, a young keyboardist named Tom Schuman began sitting in when he was only sixteen years old. This young man, of course, remains a member to this day.
"Don't forget the interminable Dead-like solos we were taking," Beckenstein cracks. "We were the kings of self-indulgence, but eventually we earned our right to charge a quarter at the door. It was a complete shock when word of our psychosis got out and we started packing them in!"
The group's increasing popularity – combined with the purchase of a new sign for the club – prompted the owner to insist that Beckenstein come up with a name for his band. "It began as a joke. I said 'spirogyra,' he misspelled it, and here we are thirty years later. In retrospect, it's okay. In a way, it sounds like what we do. It sounds like motion and energy."
In their earliest days, Spyro Gyra took their cues from Weather Report and Return to Forever – bands whose creative flights were fueled by a willingness to do things that had never been done before. "I believed that we were springing from what Weather Report did," says Beckenstein. "I never thought in commercial terms. I just thought they were the next step in the evolution of jazz, and that we would be part of it."
The first few years saw the group's identity split into a dynamic live act and a producer centric recording process, borne out of the rotating cast of characters in the jazz jam beginnings. These albums were the product of the band and a great number of the top session players in New York. In 1983, Beckenstein made the decision to make the albums the work of the band members he shared the stage with night after night, only supplementing with occasional guests.
There were several personnel changes in the 1980's, which slowed down about twenty years ago. Julio Fernandez became the group's guitarist in 1984 and, except for a short hiatus at the end of that decade, has continued in that position. Scott Ambush became the band's bass player in 1991 making this the beginning of his third decade in the band. Bonny Bonaparte joined the band in 2006 making him the "new guy" at five years.
"When we first started," Beckenstein recalls, "a lot of the jazz purists got on our case about calling what we did jazz and now it's funny to hear us getting respect from the same people. Like, wow, what you guys did was so much more intriguing than some of the stuff they hear today… Art manifests itself in a multitude of styles and contexts. Isn't that why we started to play in the first place?"
In 1977, they foreshadowed the DIY movement of the punks of the 1970's by self-releasing their eponymous debut album. Spyro Gyra was picked up by Amherst Records, a local label who then made a deal for subsequent albums to go to Infinity Records, a label owned by MCA Records. After gaining Infinity its only gold (soon to be platinum) record with Morning Dance, Infinity folded and the group was picked up by MCA Records. There they stayed until MCA acquired noted contemporary jazz label GRP Records. Spyro Gyra moved to GRP in 1990 and put out all but one of their 1990's output on that label. In 1999, they released a single album, Got The Magic on Windham Hill Jazz. The "aughts" had them returning to an indie mode, licensing their albums to Heads Up International. Most of those Heads Up albums have since returned to the band as self released independent releases. 2011 sees them returning to Amherst Records in Buffalo with A Foreign Affair.
In 2013, the band got together in the studio over a three day period with the intention of capturing their innate ability to construct compositions through a jam approach, written nd recording a whole new album, The Rhinebeck Sessions. The response was great, both on the radio and in the press. As one writer put it, "Unfairly lumped in with smooth jazz acts, a band that's always been lethal in a field full of meek performers has fully bared its teeth. Their finest album since their early 80s heyday."
In 2014, the band did an extended Morning Dance tour, playing their landmark breakthrough album on its 35th anniversary which was also their 40th anniversary as a band. After that look backward, they then released a text of their work in the 2000's, The Best Of The Heads Up Years. Now, 2019 brings up the long anticipated release of Vinyl Tap, in which they once again challenge themselves with something new, an album of all covers from the classic rock era.
"My hope is that our music has the same effect on the audience that it does on me," says Beckenstein. "I've always felt that music, and particularly instrumental music, has this non-literal quality that lets people travel to a place where there are no words. Whether it's touching their emotions or connecting them to something that reminds them of something much bigger than themselves, there's this beauty in music that's not connected to sentences. It's very transportive. I would hope that when people hear our music or come to see us, they're able to share that with us. That's the truly glorious part of being a musician."
A Historic Reflection of Spyro Gyra – by Jonathan Widran, Jazziz Magazine