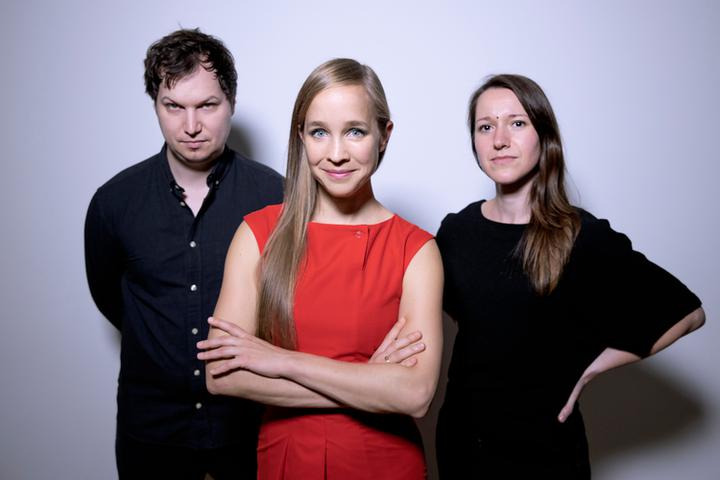 Veronika Harcsa: vocals
Anastasia Razvalyaeva: harp
Márton Fenyvesi: live electronics, guitar
We start the live-stream (real time, stream is not on demand!) about 1/2 h before the show starts. By clicking on "Now Live" a window opens, where you can watch the concert free of charge and without any registration. If you want, you can support this project with "Pay as you wish". Thank you & welcome to the real & virtual club!
In all likelihood Debussy would have welcomed the idea of his works being brought up to the minute one hundred and fifty years later by artists who knew no boundaries. After all, as the harbinger of musical Impressionism, this is what he too strove to do. Harpist Anastasia Razvalyaeva, singer Veronika Harcsa, and guitarist and sound designer Márton Fenyvesi made contemporary transcriptions from Debussy's finest chansons in which everything becomes possible. These works, which the composer wrote to poems by Paul Verlaine and other poets, are seen in another light, thanks to the airiness of the harp, and to a more declamatory vocal technique than in classical singing, while with the live electronic effects they go through a veritable paradigm shift.
Anastazia Razvalyaeva, Veronika Harcsa and Márton Fenyves take the music of Claude Debussy, the great musical translator, and transposes it into a contemporary language. Debussy abandoned a century and a half of musical rules and conventions in order to give the most faithful musical translation possible of visual images and poetry; while retaining the content of Debussy's songs, these three musicians move beyond the requirements of classical music interpretation, and adopt stylistic innovations for today's listeners. Although Debussy's music is full of chords typical of modern jazz, polyrhythms, and a writing style suggestive of the spontaneity of improvisation, he himself subjected every note to his overall vision with care and circumspection: he did not improvise. The three musicians, on the other hand, make the most of the opportunity to improvise. Anastasia Razvalyaeva set out on the, for her, unfamiliar path of improvisation especially for this CD, while Veronika Harcsa uses her virtuosity of vocal tone and prosody, and her experience in improvisation, to underscore the content of the song texts. Márton Fenyvesi then adds an extra twist to this with realtime sound effects, ambiences, and sound images: rather than steering the interpretation towards electronic music, they do the opposite, and draw our attention to its multi-dimensional physiological aspect, conjuring up the atmosphere of churches, the sea, and open fields.
https://orcd.co/debussy-now
https://harcsaveronika.hu/
https://anastasiarazvalyaeva.webs.com/
https://www.martonfenyvesi.hu/