Day Dreamer Club is byrne-ing down the house – 'Die da' spielen Talking Heads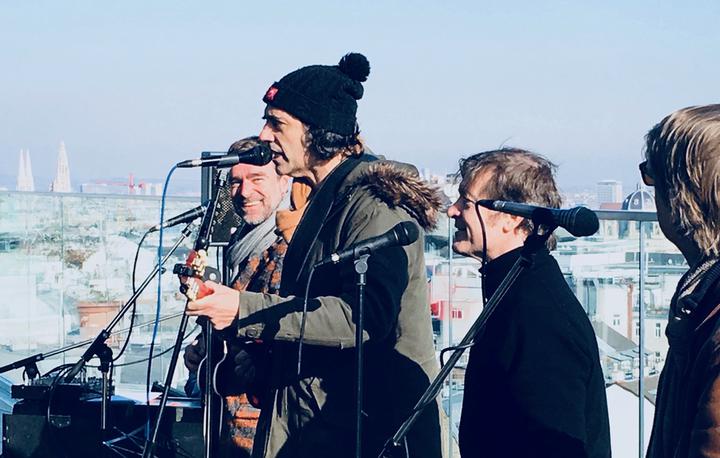 Michael Sturminger: vocals, guitars
Meko Fröhlich: vocals, guitars
Pogo Kreiner: vocals, guitars
Franziska Fröhlich: vocals
Bernadette Leitner: vocals
Dave Moskin: vocals, keyboards
Thomas J. Indge: keyboards
Edi Mayr: bass
Roli Marouschek: drums
Fernando Paiva: percussions
We start the live-stream (real time, stream is not on demand!) about 1/2 h before the show starts. By clicking on "Now Live" a window opens, where you can watch the concert free of charge and without any registration. If you want, you can support this project with "Pay as you wish". Thank you & welcome to the real & virtual club!
Sorry this part has no English translation
Das dritte Spaßprojekt der "Die da" ist die Umsetzung des Talking Heads Films "Stop Making Sense" (1984). Nach dem Beatles-Rooftop-Jubiläumskonzert am Dach des Haus des Meeres und der Live-Umsetzung des Prince-Purple Rain-Albums versucht sich die Hausband des Daydreamer Clubs an dem "…Greatest Concert Film ever made" . Stop Making Sense, der P-Funk, Rock, whatever kind of Music-Film kann sich immer noch sehen lassen und wir erforschen zu (fast) allen Tageszeiten, was das mit uns macht. 100% auf Rottentomatoes heißt schon was. Was kommt: The overwhelming impression throughout Stop Making Sense is of enormous energy, of life being lived at a joyous high. (Rottentomatoes)
Fans are welcome - bring your big suits.