Per 'Bass Viking' Mathisen's Saxophone Inferno (N/A)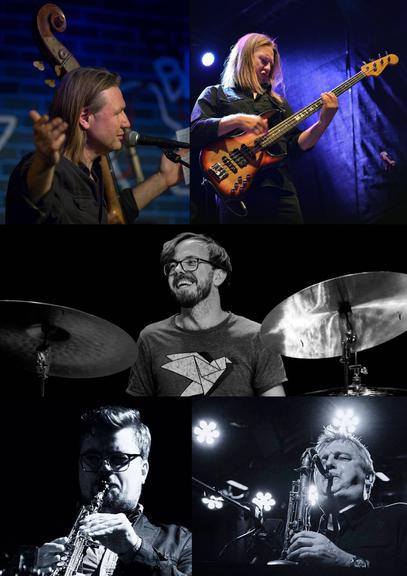 Per Mathisen: double bass, electric basses
Gerald Preinfalk, Fabian Rucker: reeds
Herbert Pirker: drums
We start the live-stream (real time, stream is not on demand!) about 1/2 h before the show starts. By clicking on "Now Live" a window opens, where you can watch the concert free of charge and without any registration. If you want, you can support this project with "Pay as you wish". Thank you & welcome to the real & virtual club!
Norway's answer to Jaco Pastorius on electric bass and Niels Henning Ørsted Pedersen on kontrabass, meets 3 Austrians, 2 saxophone wizards and a monster drummer. An evening with all the existing saxophones on the planet, from the smallest to the largest, mixed up with an adventurous and creative rhythm section. Seamlessly in and out of acoustic and electric musical landscapes, constantly with intensive power, dedication and drive. This quartet is a powerhouse line up, with virtuosity taken to the extreme on all instruments, but the band has also a wonderful other side to making music together, joy, liveliness and the expression of art with a sense of positive humor.
Per Mathisen: Performed in over 40 different countries worldwide and released 16 CD's under his own name, with some of the world's most famous jazz musicians, to name a few: Alex Acuna, Gary Husband, Geri Allen, Adam Nussbaum, Ulf Wakenius, Ralph Peterson, Gary Novak, Jon Christensen, Gary Thomas, Mike Stern, Bill Evans, Nguyen Le, Horacio "El Negro" Hernandez, Marilyn Mazur, Terri Lyne Carrington, George Garzone.
Gerald Preinfalk: Recording artist, composer, conductor, arranger, worked with endless musicians, to name a few: Don Byron, Django Bates, Terry Bozzio, George Garzone, Alegre Correa.
Fabian Rucker: Recording artist, composer, arranger, sound engineer, the Austrian younger generation's wonder boy who took the jazz sky by storm when he entered some years back. Produced records for Bobby Previte and performed with all the Austrian most in demand players.
Herbert Pirker: Herbert is truly one of Europe's most rising star drummers, constantly on the road with different bands and projects and teaching at the Anton Bruckner University in Linz. Long time collaboration with Alex Machacek.