Sterzinger V 'Leise im Kreise' (A)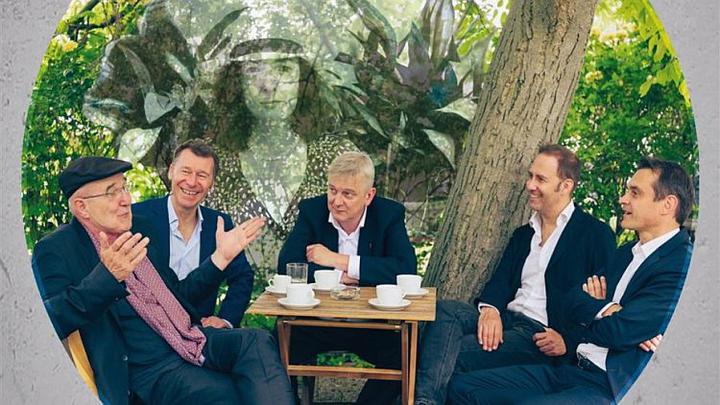 Stefan Sterzinger: accordion, vocals
Gerald Preinfalk: bass clarinet, soprano saxophone
Edi Köhldorfer: guitar
Franz Schaden: bass
Jörg Mikula: drums
We start the live-stream (real time, stream is not on demand!) about 1/2 h before the show starts. By clicking on "Now Live" a window opens, where you can watch the concert free of charge and without any registration. If you want, you can support this project with "Pay as you wish". Thank you & welcome to the real & virtual club!
The Austrian poet, essayist and committed feminist Elfriede Gerstl, who as a Jewish child survived the National Socialist era, hiding with her mother for years in the Viennese underground, would have turned 90 in 2022. STEFAN STERZINGER, an admirer of hers, has now taken her texts and poems and given them a musical treatment. And as one is used to from the Viennese singer, accordionist and composer, he does it in his very own way: idiosyncratic and far away from any convention, always a bit weird and musically highly exciting. You can hear the songs on the just released album "Leise im Kreise" (Bayla Records/Galileo Music).
One thing can definitely be said about Stefan Sterzinger, one of the most formative personalities of the Viennese music scene in recent years, he is an artist with his very own ideas and a musical language that is truly his own. You can recognize the smoky voice, the style, the sound of the numbers, as well as the ironic-critical undertone of the eloquent singer-songwriter even with blindfolded eyes. And so it is on this new album dedicated to the poet Elfriede Gerstl, "Leise im Kreise".
Stefan Sterzinger, who has gathered around him a truly wonderful band with Gerald Preinfalk (bass clarinet, soprano saxophone), Edi Koehldorfer (guitar), Franz Schaden (bass violin) and Jörg Mikula (drums), once again strikes his own unmistakable musical note, the kind that excitingly takes its place between the stylistic stools and sets exciting accents away from the ordinary. The Viennese approaches Elfriede Gerstl's texts - as well as those of Konrad Bayer and his own - with his usual musical openness. Jazz and Rock 'n Roll meet influences from traditional Viennese music, chanson, art song and tango and even here and there sound experiments from New Music. Add to that a little punky attitude and you have a mix that is admittedly not necessarily commonplace, but which works excellently and also knows how to entertain in the best possible way.
Stefan Sterzinger shows himself on "Leise im Kreise" once again as an artist who knows how to reinvent himself again and again. It is always a little bit different every time that you get presented by him. And that is what is special about every new album of his. (Michael Ternai)
Translated with www.DeepL.com/Translator (free version)
http://sterzinger.priv.at/home/