Phishbacher Trio plays The Beatles (A/USA/CZ/D)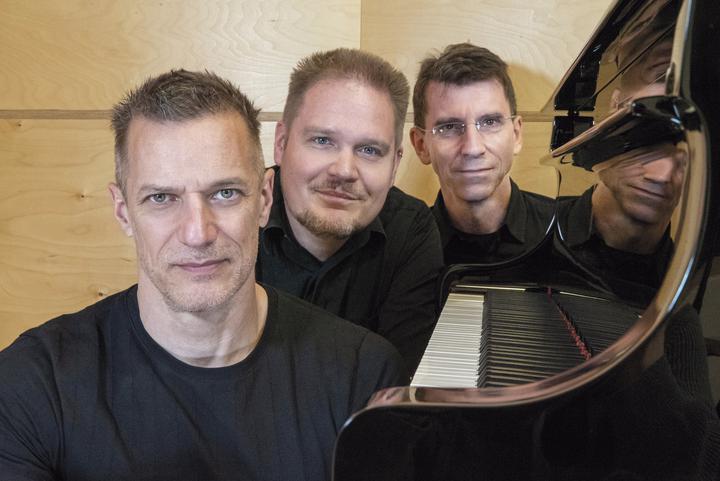 Walter Fischbacher: piano, keyboards
Petr Dvorsky: bass
Ulf Stricker: drums
We start the live-stream (real time, stream is not on demand!) about 1/2 h before the show starts. By clicking on "Now Live" a window opens, where you can watch the concert free of charge and without any registration. If you want, you can support this project with "Pay as you wish". Thank you & welcome to the real & virtual club!
Phishbacher Trio reimagines the Beatles to sound deeply familiar and magically fresh at the same time.
Phishbacher Plays The Beatles – a pairing of perfection. With this latest offering, New York City based pianist Walter Fischbacher and his trio are coming full circle. Phishbacher's first album in 2004, titled "Chillin", was grounded in the classic jazz piano trio tradition, and so is this latest album, to be released in early 2023. But as always, Phishbacher Trio is expanding the language of the piano trio with a blend of influences ranging from odd meter arrangements in the Avishai Cohen vein to latin Grooves reminiscent of Michel Camilo with a side of traditional Blues. Fischbacher's signature reharms meanwhile add to the reimagination of each song without losing sight of the source material's true essence.
Born and raised in Austria, Fischbacher moved to New York City in 1994. Here he studied jazz piano, performed with jazz greats such as Ravi Coltrane, Randy Brecker, George Garzone, Ingrid Jensen. He also owned a recording studio for 15 years, working as music producer, recording and mastering engineer. Clients include Jose James, Mike Stern, Junior Mance, Christian McBride, Antonio Sanchez.
Walter Fischbacher is returning to his roots in more ways than one though. Growing up with two older siblings he spent his formative years absorbing the music of the Beatles. It is only fitting that decades later he tackles their music to create a set that manages to sound deeply familiar and magically fresh at the same time. He is joined by premier Czech bassist Petr Dvorsky and German star drummer Ulf Stricker. Phishbacher Trio are masters at catapulting each piece of music into the stratosphere while simultaneously driving their rhythmic roots deep into the bedrock. Each piece is bursting with playfulness and just enough discipline to see the band slide along the edge of the abyss. It is this flirt with the desaster, this controlled madness that enlivens simple melodies and lifts Phishbacher above the masses. Phishbacher – an electrifying trio that raises jazz to cult status.
https://www.walterfischbacher.com/phishbacher/