Chris Potter Quartet (USA)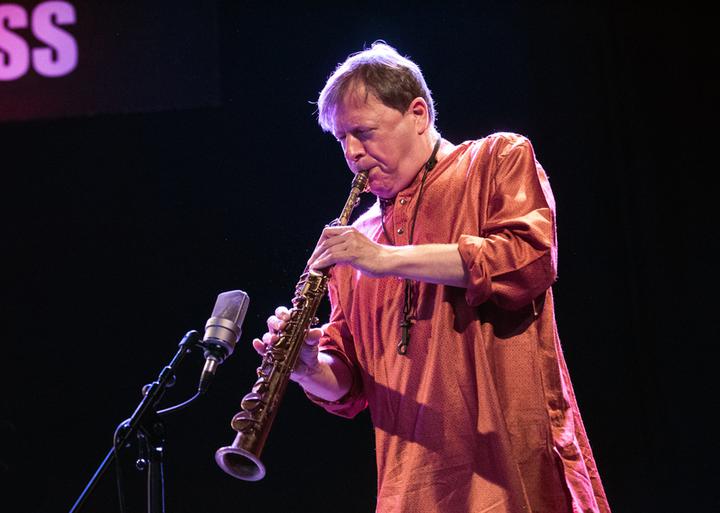 Chris Potter: tenor, soprano saxophone
Edward Simon: piano
Scott Colley: bass
Nasheet Waits: drums
We start the live-stream (real time, stream is not on demand!) about 1/2 h before the show starts. By clicking on "Now Live" a window opens, where you can watch the concert free of charge and without any registration. If you want, you can support this project with "Pay as you wish". Thank you & welcome to the real & virtual club!
Chris Potter is for sure one of the most important saxophonists of his generation. With his endless inventive playing, world-class technique and beautiful sound he is a huge inspiration for some many young musicians. In 2021 he was voted Best Tenor Saxophonist of the Year in the Downbeat Readers Poll.
He made name in the bands of Dave Holland and Dave Douglas and has recorded more than fifteen albums as a band leader. Besides that he performed on more than 100 albums as a sideman, was nominated for numerous Grammy Awards (including one with Steely Dan) and shared the stage with legends like Herbie Hancock and Ray Brown.
'A tenor saxophonist of sleek harmonic inquiry and superhuman technique' (New York Times).
A world-class soloist, accomplished composer and formidable bandleader, saxophonist Chris Potter has emerged as a leading light of his generation. Down Beat called him "One of the most studied (and copied) saxophonists on the planet" while Jazz Times identified him as "a figure of international renown." Jazz sax elder statesman Dave Liebman called him simply, "one of the best musicians around," a sentiment shared by the readers of Down Beat in voting him second only to tenor sax great Sonny Rollins in the magazine's 2008 Readers Poll.

A potent improvisor and the youngest musician ever to win Denmark's Jazzpar Prize, Potter's impressive discography includes 15 albums as a leader and sideman appearances on over 100 albums. He was nominated for a Grammy Award for his solo work on "In Vogue," a track from Joanne Brackeen's 1999 album Pink Elephant Magic, and was prominently featured on Steely Dan's Grammy-winning album from 2000, Two Against Nature. He has performed or recorded with many of the leading names in jazz, such as Herbie Hancock, Dave Holland, John Scofield, the Mingus Big Band, Jim Hall, Paul Motian, Dave Douglas, Ray Brown and many others.
https://www.chrispottermusic.com/