Tiger Lillies 'From the Circus to the Cemetery (the best-of)' (GB)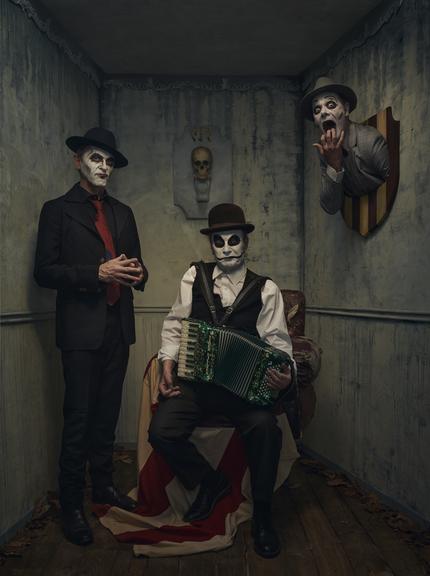 Adrian Stout: bass, musical saw, theremin, vocals
Martyn Jacques: vocals, accordion
Christoph Butenop: drums, percussion
We start the live-stream (real time, stream is not on demand!) about 1/2 h before the show starts. By clicking on "Now Live" a window opens, where you can watch the concert free of charge and without any registration. If you want, you can support this project with "Pay as you wish". Thank you & welcome to the real & virtual club!
The Grammy nominated Godfathers of alternative cabaret return with a career spanning concert. Expect dark and deviant theatrics as they delve into their back catalogue presenting their most famous songs alongside new surprises.  
 
With an international reputation for being one of the foremost avant-garde bands in the world, Olivier award winners The Tiger Lillies never cease to surprise, shock and entertain with their inimitable musical style, conjuring up the macabre magic of pre-war Berlin and fusing it with the savage edge of punk. 
 
The world of The Tiger Lillies is dark, peculiar and varied, with moments of black humour and immense beauty. This unique, Brechtian street opera trio tour the world playing concerts and theatre shows such as The Tiger Lillies Christmas Carol, The Ancient Mariner and the West End hit Shockheaded Peter. 
Always with a touch of twisted humor and sharp irony The Tiger Lillies point an implicit accusing finger back at us: what on Earth are we doing, laughing at this stuff? Their music is a mixture of pre-war Berlin cabaret, anarchic opera and gypsy music, echoing the voices of Bertolt Brecht and Jacques Brel. 

"It's not surprising that their cult following is worldwide - a Tiger Lillies gig is a journey into wild emotion which passes right through melodrama and out the other side into bizarre beauty." London Evening Standard
 
"In an ideal world, The Tiger Lillies would represent Britain in the Eurovision song contest." The Times
 
"It is hard to do justice to the dark, poetic brilliance of The Tiger Lillies, so the best thing I can advise is that you seek out a ticket for this glorious show. ★★★★★" The Scotsman (Edinburgh Festival).

''Martyn Jacques is a charismatic focus. Trudging between his piano and accordion like a man weighed down by supernatural dread – yet his voice is a molten cascade. The execution is impeccable throughout. Phenomenal.
★★★★★" Guardian