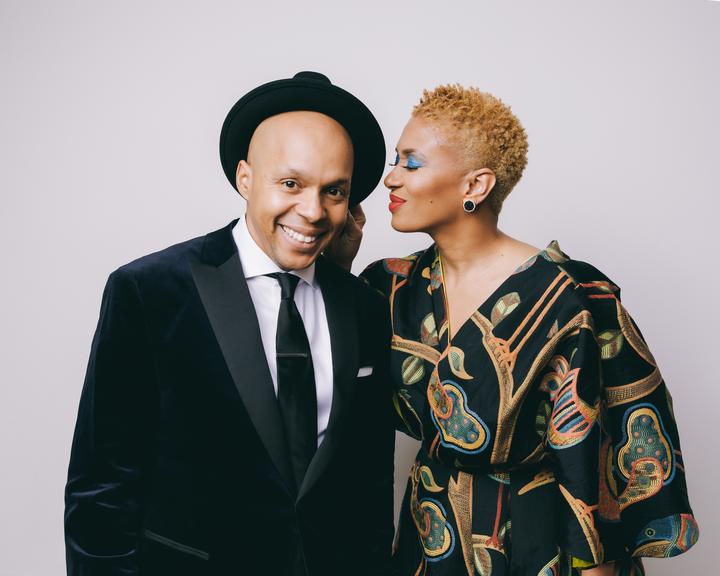 Jean Baylor: vocals
Marcus Baylor: drums
Terry Brewer: piano
Ameen Saleem: bass
Keith Loftis: tenor, soprano saxophone
We start the live-stream (real time, stream is not on demand!) about 1/2 h before the show starts. By clicking on "Now Live" a window opens, where you can watch the concert free of charge and without any registration. If you want, you can support this project with "Pay as you wish". Thank you & welcome to the real & virtual club!
A husband. A wife. An astonishing debut.
The Baylor Project featuring Jean Baylor and Marcus Baylor highly anticipated collaboration is steeped in the heart and soul of Jazz. As the children of Pastors, Marcus and Jean's musical roots were planted deep within the church, and it was there that the road was paved for the influence of gospel, blues, soul, and jazz to make it's mark. Their debut CD "The Journey", released on their own label, Be A Light, topped the Billboard Jazz Chart at number 8, solidifying The Baylor Project as an undeniable force. As you listen to "The Baylor Project," you will be taken on an eclectic musical journey that showcases as much versatility as it does virtuosity.
Jean, a "Jersey Girl", was introduced to jazz in college as a Vocal Performance Major at Temple University,where she was heavily influenced by artists such as Carmen McCrae, Jimmy Scott, and Shirley Horn. She subsequently made her mark as one-half of the platinum recording duo, Zhane´. In addition to continued development of her craft, Jean has expanded into composing, arranging, producing, and band leading. She has been a featured guest artist in performances and recordings with Yellowjackets, Kenny Garrett, Marcus Miller and legendary bassist, Buster Williams. Well-equipped with an agile mezzo-soprano range, Jean combines a fresh, whimsical approach to phrasing with clever improvisation resulting in singing of such vocal purity that she embraces the soul.
Marcus, a St. Louis native, is widely recognized as the former member and drummer of the 3-time Grammy Award winning jazz quartet, Yellowjackets. While studying and graduating from The New School for Jazz and Contemporary Music, he performed and recorded with musical icons Cassandra Wilson, John Scofield, and Kenny Garrett. Since then, Marcus has come into his own as a composer, arranger, producer and bandleader. With his natural feel, creative use of space and innovative ability to tell a story, his musicianship and improvisation are those of a seasoned musician.
At last, these two are together on stage! At last, their innovation and talent are intimately entwined! Their combined musicianship is unmatched. Their dynamic performances are soulful to the bone. The Baylors will raise you up and inspire you to clap along with them, as they entice your ears with a swinging mid-tempo tune. Yet, at a moments' notice, you may be moved to tears when they change the atmosphere with a spiritual song intended to stir the emotions. They perform original compositions and new arrangements of classic pieces. They utilize sincerity and maturity far beyond their years to deliver ballads with storied grace and elegance, and grit. And what's more is that Marcus and Jean have the uncanny ability to bridge the gap between generations. They are relatable, they are virtuosic, and for these reasons they captivate packed houses and sold out audiences.
"The Baylor Project" pays homage to their wide ranging musical influences, and in so doing, they generate an eclectic sound whose overall effect is spiritual, buoyant, and feel good music.
Soulful. Melodic. Authentic. "The Baylor Project."
https://www.thebaylorproject.com/