Mike Stern Band w/ Dennis Chambers, Jimmy Haslip, Leni Stern & Bob Franceschini (USA)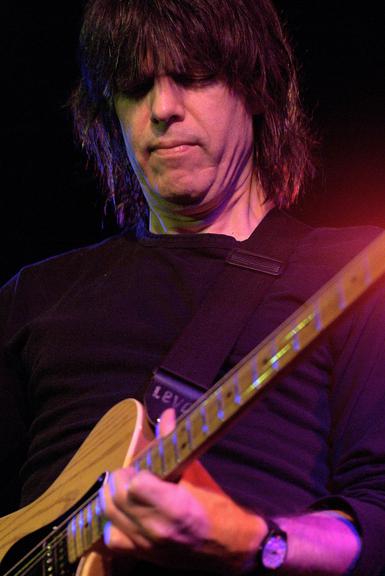 Mike Stern: guitar
Leni Stern: guitar, n'goni, vocals
Bob Franceschini: tenor, soprano saxophone
Jimmy Haslip: bass
Dennis Chambers: drums
We start the live-stream (real time, stream is not on demand!) about 1/2 h before the show starts. By clicking on "Now Live" a window opens, where you can watch the concert free of charge and without any registration. If you want, you can support this project with "Pay as you wish". Thank you & welcome to the real & virtual club!
One of the great jazz guitarists of his generation, Mike Stern has the unique ability to play with the finesse and lyricism of Jim Hall, the driving swing of Wes Montgomery and the turbulent, overdriven attack of Jimi Hendrix. Growing up in the Washington, D.C. area, Stern revered all three of those guitar immortals, along with such potent blues guitarists as Albert and B.B. King. Aspects of those seminal influences can be heard in his playing on the 18 recordings he has released as a leader or in his acclaimed sideman work for Miles Davis, Billy Cobham, the Brecker Brothers, Jaco Pastorius, Steps Ahead, David Sanborn, Blood, Sweat & Tears, Joe Henderson and the all-star Four Generations of Miles band.
Stern's latest Concord Jazz release, Eleven, is an encounter with Grammy-winning keyboardist-composer-producer Jeff Lorber. Co-produced by bassist Jimmy Haslip, who had previously worked with the guitarist on the Yellowjacket's 2008 album, Lifecycle, this lively collaboration finds Stern at the peak of his powers, following on the heels of 2017's acclaimed Trip, his triumphant return to recording after a freak accident that threatened to end his career. The multiple Grammy-nominated guitarist was hailing a cab outside his apartment in Manhattan July 3, 2016 when he tripped over some hidden construction debris left in the street, fracturing both of his humerus bones (the long bones that run from the shoulder to the elbow) in the fall. Left with significant nerve damage in his right hand which prevented him from doing the simplest tasks, including holding a pick, Stern faced a series of surgeries and subsequent physical therapy before he could regain control of his nerve-damaged picking hand. And while Trip represented a strong comeback, the intrepid guitarist takes things up a notch on Eleven.
"When the idea was floated for this project, I asked a bunch of cats who worked with Jeff, like Randy Brecker, Dave Weckl and Bob Franceschini, and they all said, 'He's cool, he throws down, he can really get it going.' And they're right," said Stern. "Jeff's got a strong rhythmic groove and he comps really well on the Fender Rhodes, which is kind of his signature sound. And I feel like his music really comes more from soul music than smooth jazz. That Philly soul thing is definitely in some of his tunes on this record."
http://www.mikestern.org/
https://www.lenistern.com/
https://www.bobfranceschini.com/
https://jimmyhaslipbass.com/
https://www.dennischambers.com/