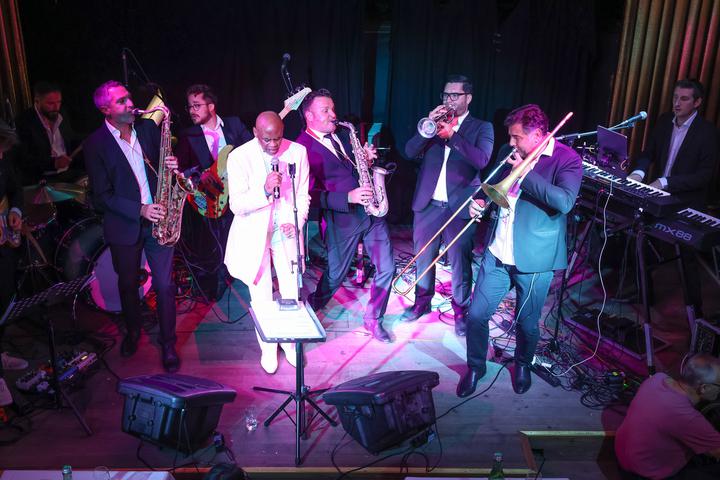 Hubert Tubbs: vocals
Paul Temmel: piano, keyboards
Lorenz Spritzendorfer, Martin Scheran: saxophone
Markus Hoffmann: trombone
Simon Plötzeneder: trumpet
Andreas Erd: guitar
Moritz Holy: bass
Michael Seyfried: drums
Afew years ago, composer and pianist Paul Temmel from Vienna and Hubert Tubbs, ex-lead singer of the Californian soul institution Tower of Power, met at the Molo Lake Stage Festival in Bregenz.
In 2022, Paul and Hubert then joined forces and set up a jazz-funk project, which they later presented on tour in Austria and Germany. The project has since been developed further, and new songs have been composed. They are part of this year's funk and soul show at the Porgy.
In addition to Hubert Tubbs as vocalist and Paul as pianist, the 9-piece band includes a rhythm section with Adreas Erd (guitar), Moritz Holy (electric bass) and Michael Seyfried (drums) as well as a top-class horn section with Lorenz Spritzendorfer (saxophone), Martin Scheran (saxophone), Markus Hoffmann (trombone) and Simon Plötzeneder (trumpet).
In this rousing concert act, the Paul Temmel Funk Orchestra also performs all-time classics of the soul and funk genre such as "I Wish" (Stevie Wonder), "Get Up, Get Down, Get Funky, Get Loose" (Teddy Pendergrass), "I Feel Good" (James Brown), "Let's Stay Together" (Al Green) or "Got To Get You Into My Life" (Earth, Wind & Fire).