Bill Evans & The Spy Killers feat. Wolfgang Haffner (USA/D)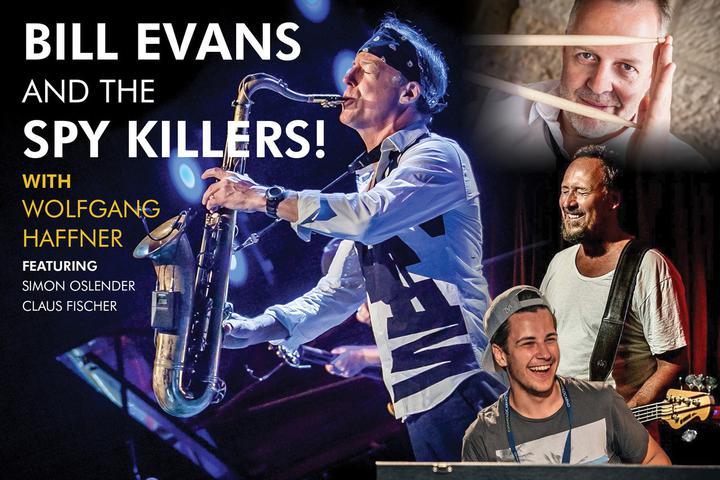 Bill Evans: tenor, soprano saxophone, piano, vocals
Simon Oslender: piano, keyboards
Claus Fischer: bass
Wolfgang Haffner: drums
We start the live-stream (real time, stream is not on demand!) about 1/2 h before the show starts. By clicking on "Now Live" a window opens, where you can watch the concert free of charge and without any registration. If you want, you can support this project with "Pay as you wish". Thank you & welcome to the real & virtual club!
Bill Evans is a world-class saxophonist and producer who made his debut on the international music scene in the 1980s originally with Miles Davis, (at the age of 21 years old and recorded 6 records with Davis) which led to playing with the likes of John McLaughlin, Herbie Hancock, Mick Jagger and Willie Nelson to name a few. With 24 solo albums, Grammy nods, and countless collaborations and tours, Evans has continued to explore a dazzling variety of adventurous musical settings as a pioneering bandleader, consistently winning fans in the worldwide arena. Recent highlights include touring and/or performing with his own Bill Evans Band as well as Warren Haynes, Robben Ford (Soulgrass meets Blues), Phil Lesh & Friends, The Stern/Evans Band, Medeski Martin & Wood, and countless sit-ins with The Allman Brothers Band, Umphrey's Mcgee, Moe, Blues Traveler, Galactic and more.
The Spy Killers feat. Wolfgang Haffner! The worlds most dangerous band.
The Spy Killers feat. Wolfgang Haffner! are their own brand of music. Where soul meets jazz and Miles meets Elvis. They have no boundaries. Whether its sci-fi soul and funk or Grooves from another galaxy, you can't help but get drawn into their world. A Spy Killers! concert will hypnotize you. It is something you will not soon forget. The Spy Killers! feature drummer extraordinaire Wolfgang Haffner, young keyboard phenom Simon Oslender and Bass groove master Claus Fischer. After co-leading several all-star bands over the past 5 years, he is back with the Spykillers! introducing new music and a new CD to his broad and dedicated audience.
http://www.billevanssax.com/
http://www.wolfganghaffner.com