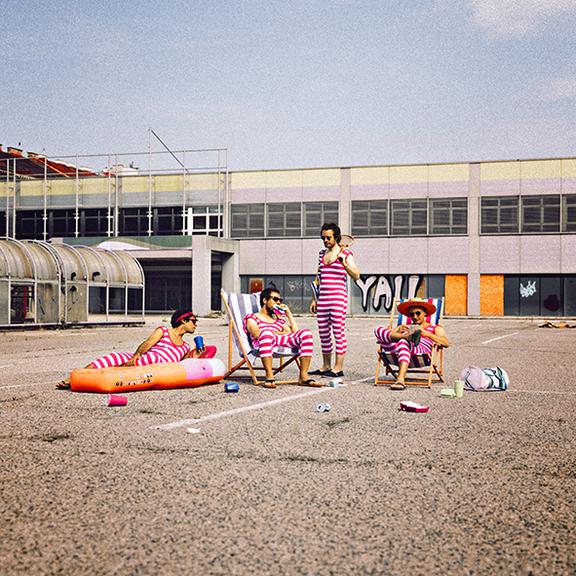 Andi Tausch: guitar
Leonhard Skorupa: reeds, composition
Daniel Moser: bass clarinet, fx
Hubert Bruendlmayer: drums
We start the live-stream (real time, stream is not on demand!) about 1/2 h before the show starts. By clicking on "Now Live" a window opens, where you can watch the concert free of charge and without any registration. If you want, you can support this project with "Pay as you wish". Thank you & welcome to the real & virtual club!
When eclectic postmodern chamber jazz meets rock. Rich with detail and a charming compositional finish that leaves you yearning for the unexpected. (Andreas Felber)
Prog rock, chamber Jazz, dynamic ever-shifting rhythms, unusual instrumentation? Check. Vienna-based Sketchbook Quartet freely play with genre stereotypes. Form surf rock to squealing improv, their unorthodox instrumentation and elaborate compositions, combined with their passion, make for a dynamic fresh and groovy sound. (12 Points Festival-Dublin)
Listening to the tracks of SKETCHBOOK QUARTET, there is definitely an initial element of surprise. Oh, so this is also how jazz can sound like! The music of the experimental friendly Viennese quartet has little to do with jazz in the classical or traditional sense. Not only is the lineup of Sketchbook Quartet rather unorthodox, but the music and sound of Leonhard Skorupa (saxophone, composition), Daniel Moser (bass clarinet), Andi Tausch (guitar) and Hubert Bründlmayer (drums) is also quite unusual, idiosyncratic and untypical for the genre.
The music is all about the mood and atmosphere, creating tension that is constantly increased, until it finally reaches its climax with a big bang. Marked by an abundance of warmth and beauty, the music of the quartet hits a captivating tone of jazz that invites the listener to immerse into the music and drift through the sonic events.
https://www.sketchbookquartet.com/