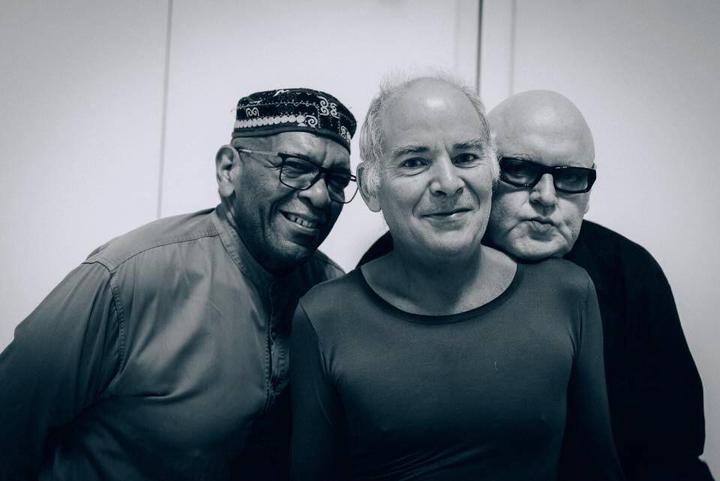 Karl Ratzer: guitar, vocals
Peter Herbert: bass
Howard Curtis: drums
We start the live-stream (real time, stream is not on demand!) about 1/2 h before the show starts. By clicking on "Now Live" a window opens, where you can watch the concert free of charge and without any registration. If you want, you can support this project with "Pay as you wish". Thank you & welcome to the real & virtual club!
The jazz harmonic "Jahreseinklang" lies in the "golden hands" of Karl Ratzer in a cherished tradition. He and his accomplices enter the stage and moments later one of those magical Ratzer chords sits in the back of your neck. After the chords have faded away, a delicate collective improvisation meanders along in open form, a novelty in Ratzer's cosmos. Free play of timbres, captured at points, suddenly drips just as naturally from Ratzer's fingers. Consequently, it coagulates into a fervent blues. Springy and relaxed in the rhythm. The best duo in the area, Herbert & Curtis, lead him there. A euphoric Ratzer ignites his solos, in the much-vaunted obstinacy, in which he re-draws the harmonic outer skin of handed-down standards as well as that of his inventions bubbling in the mixture of jazz/blues/soul. And in some cases with incomparable "mumble-crooning" he additionally emotionalizes the events. At the same time, the dazzling artist Ed Neumeister reveals a corresponding quantum of feeling. Most individual in the tone stock. Generally amazing, the collectively now achieved ease of this mixture of notational determination and spontaneous inventions. Sound concentrate and grooves foam up. In continuous intervals one reads about the influence of artificial intelligence in music creation. In view of the musical intelligence demonstrated by the Ratzer Quintet, human emotional power, the narrative capacity from gifted hands, AI with its algorithmic rigidity will remain a footnote in music history. (Hannes Schweiger)