UNESCO International Jazz Day 2022 – Jump off this Bridge (USA)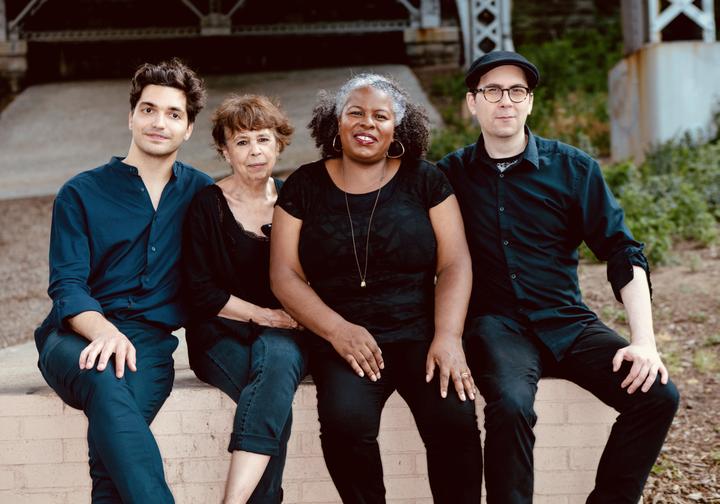 Judith Insell: viola
Virg Dzurinko: piano
Eli Asher: trumpet
Leonid Galaganov: drums, percussion
We start the live-stream (real time, stream is not on demand!) about 1/2 h before the show starts. By clicking on "Now Live" a window opens, where you can watch the concert free of charge and without any registration. If you want, you can support this project with "Pay as you wish". Thank you & welcome to the real & virtual club!
Judith Insell
Drawing on her broad knowledge of diverse musical genres, Judith Insell has built a prestigious career making music as a Classical, Jazz, Pop, & Broadway musician.
Judith has collaborated with Beyoncé, India.Arie, John Cale, Suzanne Vega, Jessica Simpson, Lee Konitz, Greg Osby, Miguel Zenon, Elio Villafranca, & Larry Harlow, as well as serving as the violist of the jazz string ensembles Soldier String Quartet & Sojourner. She was the catalyst in forming The Twisted Standard Trio and the avant garde jazz collective: Jump Off This Bridge.
In regards to television & Broadway, she has appeared on Saturday Night Live (SNL) & Late Night With Stephen Colbert; performed in Broadway orchestras for Les Miserablé, An American In Paris, A Gentleman's Guide to Love and Murder, Gypsy, Ms. Saigon, Tommy, Carousel, and Kiss of the Spider Woman. In regards to classical orchestras, she is currently a member of the Greenwich Symphony and previously performed with the New Jersey Symphony, the Brooklyn Philharmonic, and the Palm Beach Opera.
As a bandleader, her 2008 CD, "Dark Wood Explorations," a duo project with jazz bassist Joe Fonda, was met with high praise internationally and launched a them on a successful 2009 European tour.
Virg Dzurink
Virg Dzurink is a pianist who is equally at home with jazz standards and free improvisation. Among the musicians Virg has performed with are instrumentalists Vijay Anderson, Daro Behroozi, Adam Caine, Daniel Carter, Claire de Brunner, Andrew Drury, Ken Filiano, Birgitta Flick, Alex Gressel, Will Jhun, Jessica Jones, Takafumi Kosaka, Charley Krachy, Jan Leder, Eva Lindal, Adam Lane, Gary Levy, Nick Lyons, Jon McCutcheon, Ryan Messina, Atsushi Ouchi, Sean Smith, Joe Solomon, Joanna Sternberg, Satoshi Takeishi, Federico Ughi, John Wagner, Mareika Wiening, Michael Wimberly; and vocalists Maryanne DeProphetis, Dori Levine, Alexis Parsons, and Andrea Wolper.
She has performed at various venues in the NYC area including The Stone, Birdland, Roulette, Greenwich House, Cornelia Street Cafe, the Howland Cultural Center, the Firehouse Space, iBeam, Scholes Street Studio.
Virg has composed music for documentary films, television, and cartoons. With Greg Ford, she co-wrote the tune "Monsters Lead Such Interesting Lives," sung by Mel Tormé in the Warner Bros. cartoon "Night of the Living Duck." This song is included on the Rhino Records 1999 release, Mel Tormé at the Movies.
Having studied improvisation with Connie Crothers for a number of years, Virg was one of the producers (with Kazzrie Jaxen, Carol Liebowitz, and Andrea Wolper) of "Love & Music: A Celebration of Connie Crothers," a memorial tribute to Ms. Crothers, featuring more than 70 musicians, artists, dancers, and poets.
Eli Asher
Equally at home in a variety of styles from the traditional to the avant-garde, for over fifteen years trumpeter Eli Asher has found most constant expression in The Respect Sextet. "Respect" seamlessly blends music of innumerable idioms and conceptual approaches with unscripted improvisation, experimentation and unbridled hilarity, earning raves from Newsweek, The New Yorker, The Wall Street Journal, and The New York Times, called Respect "ambitious music with a smart-alecky affect, ranging broadly from the antic to the deadpan". He has also performed with the Bjorkestra, Bang on a Can's Asphalt Orchestra, Tilt Brass, Darcy James Argue's Secret Society, The Gregory Brothers, Signal Ensemble, Slavic Soul Party!, and Jose Gonzalez. Currently he can be heard with Patrick Brennan's Transparency Kestra, the Open Tabs, Joe Abba's Funk Unit, and Trio Generale.
Leonid Galaganov
Leonid Galaganov is a New York City based composer, improviser and multi-instrumentalist from a remote Russian Old Believer settlement in Estonia. With an eclectic background in jazz, classical, world and spiritual music, Leonid has also done interdisciplinary work with dance, poetry, theatre, film and paintings. He has performed his music at many NYC venues including Roulette, the Stone, Cornelia Street Cafe, Judson Church, Vision Festival, and has toured around Estonia, Finland, Latvia, Lithuania, Russia, Brazil, the UK and the US.
The main focus of Leonid's work is the continuous imagination of new possibilities in the world of sound and beyond. While some of his works are through composed, other projects gather together unique musicians to realize the poetry of sound through diverse languages of improvisation and structure.
As part of his formal education, Leonid studied orchestral conducting at Tallinn University as well as music performance and composition at NYU, from where he graduated with a BM in jazz studies; currently he is studying at SUNY Purchase for a Master's degree in classical composition. In his present performance practice Leonid uses the drum kit, shakuhachi, waterphone, hand drums and other percussion instruments.
http://jumpoffthisbridge.com/
https://www.facebook.com/jumpoffthisbridge