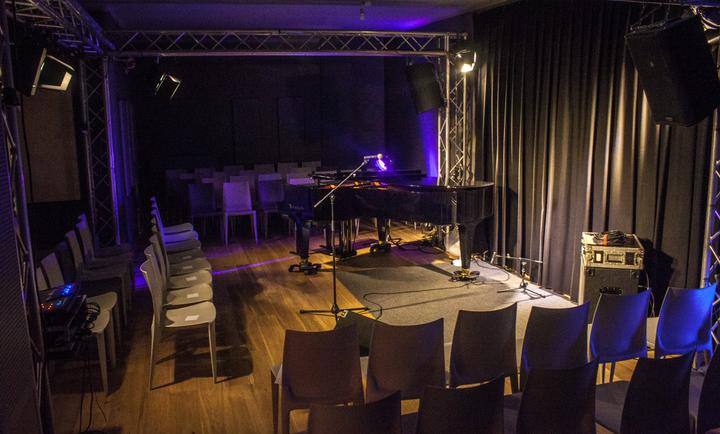 In der Strengen Kammer
The Strenge Kammer in the P&B was opened in October 2011. The idea behind it was to create a second stage for concerts that do not (or no longer) lend themselves to the "Mainstage" in this form. This space became available after the advance booking office there was abandoned (and is now much more attractively located where it can also be seen from the street). This newly reclaimed space has been acoustically adapted and functions as a multi-functional space for musical experimentation, readings, exhibitions, and discussion forums. Partially curated, concerts and the like are held there, beginning at 7 p.m. and lasting until 8 p.m. at the longest.
Small, fine, advanced, bulky, avant-garde, quiet, intimate, unusual, in any case rigorous concerts are held there. A relatively open podium with some program tracks and a pronounced tendency to flexibility and improvisation, for up to 30 listeners with open ears. In terms of content, there is an all-encompassing bracket. Only music outside the mainstream will be heard there.
Admission is charged, and as much as the concert is worth to someone. "Pay as you wish" is the motto. In addition to individual concerts programmed by the P&B, there are curated tracks: Mondays are called "Lost & Found" and once a month there is the so-called Burning Chamber, every 1st Thursday through Saturday of the month. Both series were curated by Renald Deppe, who incidentally co-founded the P&B in 1993. From the fall of 2022, he will be succeeded by bassist and composer Peter Herbert. The Strenge Kammer established itself in a very short time as a "hotspot" for young creative art. Christoph Huber
Contact Peter Herbert: ph@porgy.at
Archive
show 50 of 1051 past events
show more