The Huntertones & Shayna Steele (USA)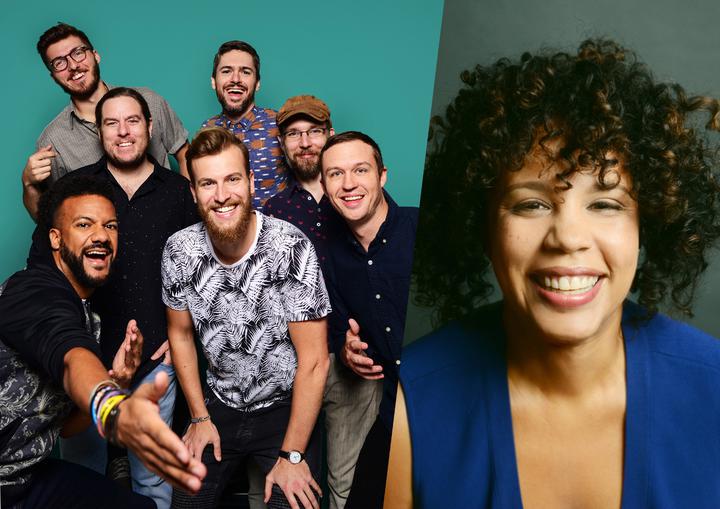 Shayna Steele: vocals
Dan White: saxophones
Jon Lampley: trumpet, sousaphone​
Chris Ott: trombone, beatbox
Justin Stanton: keyboards, trumpet
Josh Hill: guitar
Adam DeAscentis: bass
John Hubbell: drums
We start the live-stream (real time, stream is not on demand!) about 1/2 h before the show starts. By clicking on "Now Live" a window opens, where you can watch the concert free of charge and without any registration. If you want, you can support this project with "Pay as you wish". Thank you & welcome to the real & virtual club!
Huntertones brings people together around the globe with music that is fun, imaginative and fearless. Passport, is the third album from the high-energy, Brooklyn-based instrumental band. The new music is inspired by the band's international travels and cross-cultural collaborations in South America, Europe, and Africa as well as by collaborations with a diverse group of artists. Members of Huntertones have collaborated with Stevie Wonder, Andy Grammer, Ed Sheeran, Allen Stone, Gary Clark Jr., Ricky Martin, Jon Batiste, Snarky Puppy and more.
In 2019, Huntertones find themselves a perfect fit to collaborate with Shayna Steele - a fellow New Yorker and powerhouse vocalist who at this point is no stranger to European audiences. She recently toured Europe presenting her latest album "Watch Me Fly". Known from recordings with Snarky Puppy, Moby, Rihanna and a host of other stars, Shayna Steele's vocals seamlessly transition from Soul, Blues, Gospel to retro R&B and Jazz, showcasing Shayna Steele's infectious energy & spirit. When layered amongst the power of Huntertones horns & adventurous arrangements, it's a show that has fans clamoring for more.
http://www.huntertones.com
http://www.shaynasteele.com