James Brandon Lewis & Alexis Marcelo Duo (USA)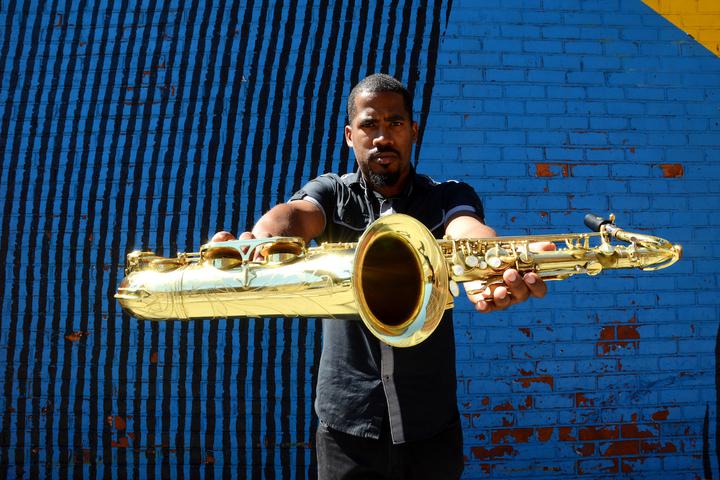 James Brandon Lewis: tenor saxophone
Alexis Marcelo: piano, synthesizer
"The Dead Lecturers 'The Levels of Skindergarten' (with a tribute to Jean-Michel Basquiat)", so war es angekündigt, aber der 'spoken word artist' Thomas Sayers Ellis kann nicht nach Europa kommen. James Brandon Lewis & Alexis Marcelo entschieden sich dankenswerterweise, die Konzerte nicht abzusagen, sondern im Duo zu spielen. Welcome to the Club!
We start the live-stream (real time, stream is not on demand!) about 1/2 h before the show starts. By clicking on "Now Live" a window opens, where you can watch the concert free of charge and without any registration. If you want, you can support this project with "Pay as you wish". Thank you & welcome to the real & virtual club!
Founded in 2012 by James Brandon Lewis and Thomas Sayers Ellis, three years before their larger ensemble Heroes Are Gang Leaders, The Dead Lecturers is an improvisational exchange between units of sound and units of language with the goal of stimulating, within the listener, new ideas of action and non-passive living. Ellis and Lewis have a unique chemistry of agreeing and disagreeing with one another while delivering a potent, creative messages that extend the Black Literary Oral Tradition. Joined by pianist Alexis Marcelo, their classroom of sound has been extended to include the musical signifying of a soulful syllabi and experimental refereeing.
Thomas Sayers Ellis is a recipient of Guggenheim Fellowship, the author of three collections of poetry (The Maverick Room; Skin, Inc.: Identity Repair Poems and Crank Shaped Notes) and Mexico, a book of photographs. His work has appeared in numerous anthologies and literary journals, including The Best American Poetry (1997, 2001, 2010, 2015), The Paris Review, Poetry and The Nation. His current project is a lyric novel titled The Percussions.
Creator of a soulful New York City sound, pianist Alexis Marcelo benefited greatly from growing up as a Black Latino in New York City where he studied under J.D. Parran (AACM) at the Harlem School of the Arts. Marcelo has recorded with Yusef Lateef and performed with him in Germany, Poland, United Kingdom and Denmark. Abstractions of Monk, a solo project, is forthcoming.
Tenor Saxophonist James Brandon Lewis has been prolific, innovative and influential, recently releasing An Unruly Manifesto, Radiant Imprints, Jesup Wagon, Molecular, Live in Willisau (with Chad Taylor) as well as the forthcoming A Code of Being. His ensembles have toured widely and he is an active presence on the New York Jazz Scene sharing the stage with William Parker, Hamiet Bluiett, Jamaaladeen Tacuma, Ravi Coltrane, Jimmy Heath, Benny Golson and Geri Allen to name a few, The New York Times writes, "He has defined his own saxophone lineage—one that runs through Sonny Rollins, David S. Ware and J.D. Allen, constructed around ideals of deep seeking and rhythmic exchange—and kept building." (Pressetext)