Timo Vollbrecht 'Fly Magic' (D/USA/A/KOR)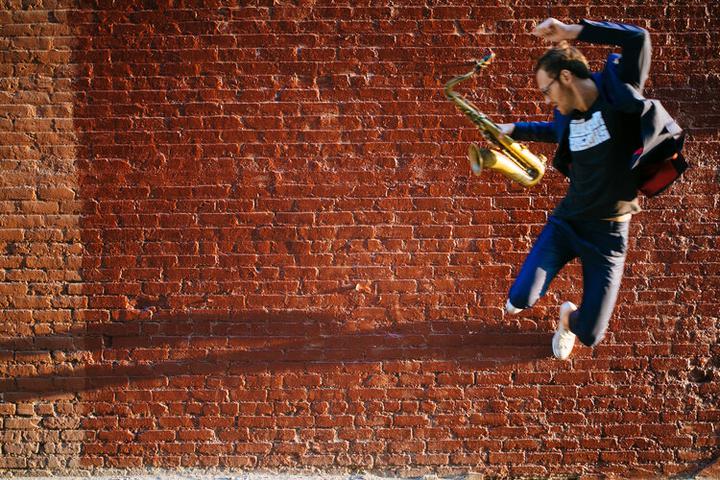 Timo Vollbrecht: tenor saxophone, clarinet
Keisuke Matsuno: guitar
Elias Stemeseder: piano, synthesizer
Dayeon Seok: drums
We start the live-stream (real time, stream is not on demand!) about 1/2 h before the show starts. By clicking on "Now Live" a window opens, where you can watch the concert free of charge and without any registration. If you want, you can support this project with "Pay as you wish". Thank you & welcome to the real & virtual club!
"A true discovery." (NDR Radio)
Based in Brooklyn, rooted in Berlin, focusing on composed and improvised music: Timo Vollbrecht is what the New York City Jazz Record calls a "luminously-fine" saxophonist-bandleader, whose music is "blessed with rhythmic fluidity and intricate twists." Acclaimed for his "warm blanket of sound" (JazzThing), he follows a carefully composed musical vision that balances emotional intensity, vivacious energy, and delicate simplicity. The result is a sound of self-effacing insistence that is as visual as it is sonically beautiful. It inspires a sense of wonder as it is rarely felt in music today. A musical omnivore, he organically combines jazz with elements of post-rock, indie, new music, experimental, and instrumental songwriting. "Through this confluence of influences, his music transcends the limitation of musical genre." (Stefon Harris)
"Fly Magic" is Vollbrecht's signature ensemble. The band has released two albums, tours worldwide and appears at major festivals in Europe, the US, Asia, Australia, the Middle East, and South America. It comprises four spectacular improvisers that emerge from the scenes of New York and Berlin. Their collective musical story originates right at the intersection of styles and cultural diversity, as seen on their newest release Faces in Places (Berthold Records). The album tells the tale of 10 human encounters in different countries that left a deep imprint on the musicians. Hence, the music whisks you to meet Mala in Malaysia, Muhammad in Syria, or Tiffany in Singapore. Before that, the band released its debut album Fly Magic, which the Jazzpodium Magazine views as "one of the most outstanding recordings of a German artist in 2016."
"Fly Magic" also features he unique and intimate musical relationship between Vollbrecht and his longtime artistic partners, guitarist and sound-wizard Keisuke Matsuno, keyboarder Elias Stemeseder, and drummer Dayeon Seok from New York/Seoul. It is their love for the element of surprise and their search for the paths less traveled that keep this music at the cutting edge of contemporary improvised music.
"Modern, flexible and free from quotes and imitation, self-effacing and delicate." (FAZ)
Timo Vollbrecht is a New York based saxophonist and bandleader. He works at the intersection of improvised and composed music, is a professor for jazz saxophone at New York University and tours worldwide.
Keisuke Matsuno is a guitarist and sound artist who made himself indispensable on the progressive music scenes of Brooklyn and Berlin. He works across genres and works with household names such as John Zorn, Jim Black, and Chris Speed.
Elias Stemeseder belongs to the most creative improvisers on the international scene. With Fly Magic, he plays piano and synthesizers simultaneously and is in charge of the bass.
Dayeon Seok is a high-in demand drummer who has performed and recorded with Dave Douglas, Michaël Attias, and Ralph Alessi. After 10 years in New York she just relocated to her home in Seoul, Korea.
http://www.fly-magic.com
http://www.timovollbrecht.com