GolNar 'The Voice Poet' (IR/A)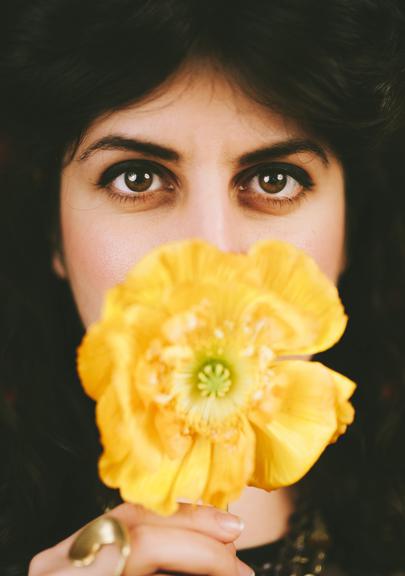 Golnar Shahyar: voice, piano, guitar
special guests tba
We start the live-stream (real time, stream is not on demand!) about 1/2 h before the show starts. By clicking on "Now Live" a window opens, where you can watch the concert free of charge and without any registration. If you want, you can support this project with "Pay as you wish". Thank you & welcome to the real & virtual club!
I am not here to draw endless parallel lines. I am the poet, the singer of the silver moon rhymes. (Golnar Shahyar)
In Persian, "Golnar" means the flower of Pomegranate. Here, it represents a journey or rather the emotional imprints of a woman who sees her music as the reflection of her changing identity and the coming together of many different worlds, just like the pomegranate grains all together in one body.
Golnar Shahyar is a Viennese based vocalist/composer/performer/lyricist who has already made a name for herself as the lead singer of her bands Sormeh, Choub, Gabbeh, and Golnar & Mahan. She has been performing internationally for years in many renowned venues and festivals and has done many dance and theatre collaborations.
"The hypnotic polyphonic weave of Golnar Shahyar s voice, her guitar or piano, takes place so naturally as a floating story about the diversity of life, crossing her fondling fingers over your mind and heart." (Danas Newspaper). Golnar s musical signature is her ability to connect different music styles and cultures in such an organic way that makes the complexity of her compositions and singing almost effortless. Her voice is powerful yet very subtle and covers a whole range of emotions. In her performances, she creates an atmosphere where authenticity, vulnerability, and empathy are celebrated as strength. "I don t play to please," she says, "I play, to be honest." Her authenticity shines through many languages; Farsi, English, Arabic, Kurdish or even her own fantasy language. The core of her work is communication, personal expression, and (musical) storytelling.
In her solo project GolNar she writes and sings about human essence, emotions, and social struggles. Her compositions introduce a fresh musical narrative in the art of songwriting inspired by microtonal music of south/east Asia, west African Wassoulou music, contemporary jazz, European chamber music and improvisation. Her lyrics are deliberate yet direct. They pass through personal experience, cultural and gender identities, and speak to the audience in an empathetic and unifying way.
Golnar is a millennium voice. The only voice that ever moved me to tears when I saw her live. Every single note she sings contains incredible magic. (Mira Lu Kovacs)