Fritz Pauer – From the Past into the Future
On the occasion of the 80th birthday of Austrian jazz pianist, composer and jazz educator Fritz Pauer (14.10.1943 - 1.07.2012), his friends, the US-American trombonist and composer Ed Neumeister and double bassist Johannes Strasser initiate a three-day retrospective on his extensive musical œuvre. During the three days of this opulent celebration for Fritz, former musical companions and students as well as "grandchildren" will celebrate his artistic vision, warm-hearted and eternally curious persona.
Besides Joe Zawinul, Fritz Pauer was the second most important jazz pianist and composer of his generation with strong international connections. In 1964, as a house pianist at Doug's Nightclub and Jazz Gallery, he immediately had intensive encounters with international jazz greats such as Dexter Gordon, Johnny Griffin, Art Farmer, Leo Wright, Carmell Jones, Pony Poindexter, Don Byas and many others. In Austria he was a member of the legendary ORF Big Band and worked vigorously with all the jazz greats of his time such as Fatty George, Hans Koller, Friedrich Gulda, Erich Kleinschuster and many more. He also worked for ORF (and others) as an arranger - composer. Since the 1960s, many of his compositions have found their way into the repertoire of international jazz musicians such as Art Farmer, Clifford Jordan, Benny Bailey, Kevin Hayes, Tom Harrell, Ed Neumeister, Laurie Antonioli, Vanessa Rubin, Chico Freeman and have been released by them on recordings. As a notable teacher, he was a formative influence for many important musicians of the following generations, such as Mathias Rüegg, Uli Scherer, Roland Batik, as well as for countless former jazz students at the universities of Graz, Vienna and Bern.
Pauer worked with the admirable discipline of a creative man in a constant creative flow, driven by the pure love of music, whose source was not only to be found in jazz. After his death he left behind in his house in Zurndorf about 1700 original compositions of various sorts, a large number of which have never been performed. These (and countless other sketches, leadsheets, recordings, etc.) were pre-sorted by his widow, the painter Marlies Hubmayr, and Johannes Strasser and then in 2017, as an estate, given to the City of Vienna Library in the City Hall, where it is now open to the public.
More than 50 musicians from the Austrian jazz scene as well as international guests will perform on the comprehensive exhibition and journey of discovery through the diversity of Fritz Pauer's music. Established names and representatives of Pauer's generation meet up with up-and-coming musicians from the young and youngest Viennese jazz scene. Following Pauer's universally anchored concept of creativity, they all approach the pieces (as interpreters, improvisers and/or arrangers) from their own subjective artistic perspective and will set Pauer's sound space vibrating collectively and together with the audience - a ritual in 72 hours.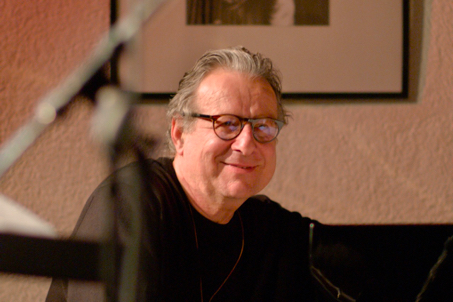 We would like to thank the following for the music material provided: Wien Bibliothek im Rathaus, KUG - Institute 8 Jazz & Sigi Feigl (head of the institute) MDW Library & Markus Geiselhart (big.mdw.band)
The festival was organized in cooperation with Porgy & Bess, Christoph Huber and Studio Dan, Daniel Riegler (dramaturgy), Sidonie Forstreiter (finances)
Artistic project management, and coordination: Johannes Strasser

Musical direction: Ed Neumeister
With the kind support of: BMKÖS, Stadt Wien Kultur MA7, GFÖM/AKM, SKE/LSG-Interpreten
Upcoming
3 upcoming events